In the Community
Community News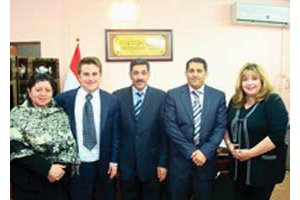 SIS Professor Carole O'Leary and Christopher Argyris (MA IP '08) spent January in Baghdad, advancing the Center for Global Peace's State Department-funded grants. The Center's project supports the development of Iraq's Independent High Commission for Human Rights as well as Voter Education in provinces under-represented in the 2005 elections cycle. O'Leary and Argyris were hosted by Deputy Prime Minister Barham Salih, and met with several Iraqi Ministers and Commissioners of the Independent High Elections Commission, as well as the leadership of the Iraqi coalition government, the United Iraqi Alliance. The Center provided legislative drafting training and analysis for the Human Rights Commission bill, which was signed into law in December, and will provide capacity-building support for newly-appointed commissioners and staff.
The Center is working with the Ministry of Human Rights and an inter-ministerial coordinating committee on a National Human Rights Action Plan. Also in January, AU-CGP convened the first of four Master Train-the-Trainers workshops for voter education and outreach, and produced public affairs programming and public service announcements that aired on Iraqi TV prior to the January 31 Provincial Elections.
Professor Mohammed Abu-Nimer participated in co-facilitated problem-solving workshop in Istanbul with Maria Jessop (MA IPCR) from USIP. A group of Iraqi ministers of various departments met in order to discuss ways to improve coordination among different ministries and explore new ways to collaborate on issues that face Iraqi education system in Kurdistan and other regions. The workshop concluded with an action plan that USIP officers will continue to work on.
Reina Neufeldt co-organized a roundtable with Tamra Pearson d'Estrée in honor of the memory of Dr. Cynthia Chataway, a Social Psychologist who researched the intersection of political psychology and conflict resolution. Roundtable participants focused on the role of the third party in transferring outcomes from problem-solving workshops, psychological research supporting problem-solving workshops, aboriginal social and economic development in Canada, and the role of participatory action research in conflict resolution. It was chaired by Herbert Kelman, and included Eileen Babbitt, Susan Allen Nan, Drs. Pearson d'Estrée and Neufeldt.
Dr. Alma Abdul-Hadi Jadallah will receive the 2009 Women Business Enterprise Star award, the nation's premier award for excellence among women's business enterprise, in acknowledgment of her innovation, drive, and community leadership.
This article was originally published in the Spring 2009 International Peace and Conflict Resolution Newsletter.