In the Community
Job, Internship Fair Brings Student Futures to the Fore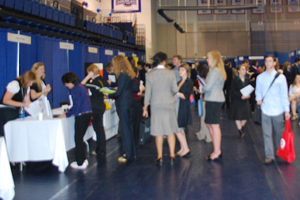 Hundreds of undergraduate and graduate students milled around Bender Arena in suits, ties, and carrying sheaves of résumés at American University's Career Center's fall semester Job and Internship Fair on Thursday, September 24.
With organizations like Children's National Medical Center, the Peace Corps, Western Union and over a dozen local and federal government agencies represented, the fair allowed first- and second-year students to get a feel of the search and application process, or find valuable internship opportunities, and for older college and graduate students to begin the job-searching process.
"The fair garnered record attendance of 925 students and alumni, [and] a total of 120 organizations participated," explained Bridget O'Connell, the Career Center's Director, Outreach and Marketing. The twice-yearly fair is a good chance for freshmen and sophomores to "browse the organizations," O'Connell noted.
Graduates of American University often come back as recruiters, O'Connell observed; at this fair, thirty-four alumni recruiters returned to meet current students and recent alumni, since they recognize the talent of their younger colleagues.
One of the alumni recruiters who came back to campus is Chemonics International's Nilar Chit Tun, SIS/MA '05, a graduate of the international communications program. Like fellow fair attendee organizations ACDI/VOCA, Visions in Action, and CARE, Chemonics is an internationally-minded company that is especially popular with students in and graduates of the School of International Service (SIS).
SIS students are particularly strong job candidates, because of "the dynamism they bring … they're motivated, drive, and care about development," Chit Tun said.
Such a student is Victoria Mattiuzzo, SIS/BA '09, who is excited to take what she's learned in class and transfer those skills to real life. "For a few years we learn a lot of theory," she explained. Graduate student Kathryn Schoenberger, SIS/MA '11, agreed, looking at her future position as a place to start a career. "Ideally, [an internship] would be [at] a place where I would work for the summer and get a job afterward," Schnoenberger said.
The Career Center will host its spring Job and Internship Fair during the third week of March, 2010, and a specialized week-long series of career events and programs for SIS students during the first week of February, 2010.