Research
The Gun or the Pen? An SIS Professor Examines the Role of Anthropology in Counterinsurgency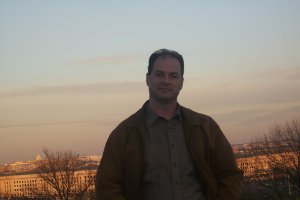 Can social science and the military collaborate? An AU professor and his team have been thinking a great deal about that challenge of late.
SIS Professor Robert Albro chaired the American Anthropological Association's (AAA) Commission on the Engagement of Anthropology with the U.S. Security and Intelligence Communities (CEAUSSIC). The commission recently released a formal report to the AAA detailing its concerns about the Human Terrain System (HTS) project currently in place in Iraq and Afghanistan.
"On the one hand, the report is intended to provide a grounded, detailed, well-researched, and balanced point of reference for ongoing discussion of this controversial program," Albro explains, noting that members of the military weighed in on the report with comment, and critique their experiences and the program itself. "On the other, it is part of a larger process of anthropology, and the social sciences more generally, engaging in dialogue with the security sector … about what constitutes the appropriate roles and boundaries of social scientific practice in this context."
With its first participants deployed in 2007, HTS is designed to provide socio-cultural knowledge to field commanders in Iraq and Afghanistan to inform their decision-making. The members of Human Terrain Teams (HTTs) meet with and collect data on the civilian population with the goal of better understanding the cultural environment within which the U.S. military is operating in these countries.
"Given the military's increasing interest in the value-added of the discipline of anthropology, and in becoming more sophisticated with respect to culture in campaigns of counterinsurgency that require intimate knowledge of, and interaction with, local populations, the report evaluates whether what HTTs do is in fact 'social science,' including anthropology, " notes Albro. As researchers, HTTs should meet established standards in working with human subjects. "Dual-career professionals such as doctors and clerics work for the military and manage to negotiate their multiple identities. The issue here is that we do not yet have anything like the same thing in place for social scientists who are 'in the field.' So they are asked to operate in an ethical vacuum, which is professionally unacceptable and leads to poor outcomes," explains Albro.
In the company of Army or Marine units, HTTs are tasked with collecting data about local Afghani and Iraqi populations, which might include "the elicitation of oral-history narratives [and] kinship and genealogical analysis," and many other factors, or, as Albro describes, "relevant socio-cultural data for field-level decision-makers." While the military's need for better socio-cultural knowledge in the midst of a counterinsurgency campaign is recognized, the SIS professor acknowledges, the possibility of misuse of the data is great, leading to another problem with the program. "It's precisely that kind of data that's very sensitive … you can't guarantee [its] integrity. HTT members have no reliable control over what happens to the data that they pass on. Researchers do – and that's a big difference. The first rule of anthropological field work, written into the discipline's own Code of Ethics, is: 'do no harm.'"
CEAUSSIC's report cautiously and diplomatically concludes that "constructive engagement between anthropology and the military is possible," and Albro agrees, but is pessimistic about the possibilities of reforming the HTS program: "Social scientists can contribute to help solve problems of security in the U.S. and elsewhere, or to engage with the military on the question of cultural competence. But embedding social scientists in front-line army or marine units, dressed in fatigues, and carrying weapons, is not a role for social scientists, period. HTS, in short, cannot be fixed."