International
Meet Professor Ibram X. Kendi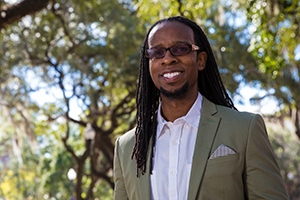 Best-selling author and award-winning historian Ibram X. Kendi joins American University this fall as a professor of international relations in the School of International Service (SIS) and a professor of history at the College of Arts and Sciences (CAS). In addition to his joint appointment, Kendi will serve as the founding director of the new Antiracist Research and Policy Center at the university.
Prior to joining the university, Kendi was a professor of history at the University of Florida and published Stamped from the Beginning: The Definitive History of Racist Ideas in America, winner of the 2016 National Book Award for Nonfiction. Stamped narrates the entire history of racist ideas and how they were created and popularized in an effort to defend deeply entrenched discriminatory policies and rationalize racial inequities. Kendi has published extensively on race in America in academic journals and books, as well as op-eds in numerous publications, including The New York Times, Salon, Time, Black Perspectives, and The Chronicle of Higher Education.
We asked Professor Kendi to tell us more about his background, research, and what he's looking forward to as he begins his next chapter at the School of International Service.
Your book, Stamped from the Beginning, confronts race in America in way that's never been done before. It has garnered much praise and press since its publication and also won the 2016 National Book Award for Nonfiction. What has the success of your book been like for you?
It's been quite the whirlwind in many different ways. I've been pulled in many different directions, but quite happily. I think the great reception toward the book has allowed me to travel the country talking about racial issues, talking about how there's nothing wrong with black people, talking about how we as a nation can build an antiracist America. The success of the book has given me a bigger platform to do this type of work, and I hope to do more of this type of work at AU.
You'll be creating the new Antiracist Research and Policy Center at American. How did you conceive of the center and what do you hope it will accomplish?
I think it was born out of my book. It was a book that really showed the way in which we can undermine racist ideas and uncover and seek to undo discriminatory policies. The book sort of reorients how we think about the origin of race and illustrated that racist policies lead to racist ideas. If we want to eliminate racism, we have to focus on eliminating the policies. That led me to think about the importance of engaging in serious research to uncover racial inequities, to identify the discriminatory policies that are behind them, and to propose policy correctives. That is what the center will be doing.
The center will bring together researchers, faculty, and students at AU and from around the country to come together and work as teams to address major national and international research in six subject areas: criminal justice, education, economics, health, environment, and politics. Its mission is to build an antiracist America and build an antiracist world-a place where racial disparities do not exist, racial discriminatory policies do not exist, and where we would truly have equal opportunity for all people.
Why American University for this type of research?
I think AU has a deep and abiding commitment to public scholarship and to scholars who are critically engaging the major societal concerns of the day. That first and foremost attracted me to AU. I saw that many professors and researchers here were engaged in this type of work, that the administrators were supportive of this type of work, and that the students delighted in this type of work. AU is renowned as one of the most politically engaged campuses in the country, so I am really looking forward to working with these politically engaged students. And, of course, AU being in Washington, DC, could provide a perfect platform for this work.
What drew you to the School of International Service? How are you hoping your work and the school will support each other?
It goes without saying that race has always been a global construct, and any serious scholar of race must be a scholar of international affairs. As such, I have much to learn from my SIS colleagues, and much to share. I can't emphasize enough how much I admire the SIS faculty and how excited I am to join this leading school of international affairs.
Being in this world-class intellectual milieu will only enrich my work. I know that racism has been an essentially international affair from its beginnings-one of the central factors that shapes and continues to reshape the modern world. In the not-so-distant future, I am thinking about producing two world histories, and I can only imagine how crucial my SIS post will be in those research projects. Finally, the new Antiracist Research and Policy Center shall study racial inequality and discriminatory policies not only in the US, but also around the world. I am looking forward to hopefully working with some of my brilliant SIS colleagues on research and policy projects at the center.
With all that you'll be doing between two schools and the center, what are you most looking forward to?
I'm most looking forward to getting to know the people: the students, my colleagues, staff members; getting to know the environment; getting to know the people of Washington, DC. I'm most excited about forming those relationships to those people because it will be essential to the center and my work. I think another reason why I'm excited about starting the center at AU is that there are so many researchers who are already there who are committed to this type of antiracist work, and being able to partner with them is really exciting. I'll also be returning and reconnecting with many friends and family from the area.
What classes will you be teaching?
In the fall, I will teach History of Racism. I plan to facilitate a learning environment where we scrutinize how and why racist ideas and policies circulated around the world and up to our time. I hope we are able to use this history to gain a better picture of the present racial life of the United States and the world. For the spring, I plan to create a course entitled Introduction to Antiracism, which I suspect will be the first such course in the United States. In this course, we will study antiracist ideas and policies historically and in the current moment: ideas suggesting racial equality and policies striving to create racial equity in our world of racial inequities.