Achievements
Faculty, Staff, Students Reap SIS, External Awards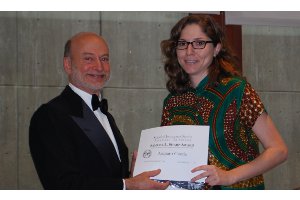 SIS Faculty Awards 

Scholar/Teacher
:
Patrick Jackson
Outstanding Scholarship, Research, and Professional Contributions
:
Clarence Lusane
William Cromwell Award for Outstanding Teaching
:
Sharon Weiner
Darrell Randall Award for Outstanding Service to the University Community
:
Paul Wapner
Outstanding Teaching, Adjunct Faculty
:
Zakir Hafez
William C. Olson Award for Outstanding Teaching by a PhD Student
:
Dylan Craig
SIS Staff Awards
Outstanding Performance: Irina Douda
 
Outstanding Service to the University Community: Rebecca Bellinger, Heidi Ashton Yoon, Jeannie Khouri
 
Special Award: Tim Cegnar

SIS Student Awards
Outstanding Service to the SIS Community: Gunperi Sisman
 
Outstanding Service to the University Community: Jonathan Freimark
 
Outstanding Scholarship, Undergraduate: Erin Lockwood
 
Outstanding Scholarship, Graduate: Kathryn Schoenberger and Laura McGinnis
 
Annette Langdon Award for Outstanding Community Activism in Support of Social Justice: Amber Jolla
 
Global Environmental Politics Awards for Outstanding Achievement in the Field of Global Environmental Politics: Julia Kennedy
 
SIS Resonator Award for Outstanding SIS Spirit and Service to the SIS Community: Florian Von Gierke

Kimberly Miller Award for Outstanding Commitment to European Studies and Community Spirit: Micah Johnston
 
Brady Tyson Award for Excellence in Work Related to Human Rights: Tazreena Sajjad
 
The Serif Mardin Award for Outstanding Scholarship in Islamic Studies: Lauren Barr

Petra Kelly Memorial Award for the Graduating SIS Senior Most Active in Support of Nuclear Nonproliferation, Environmental Issues, and Political Activism: Joely Hildebrand
 
Samuel L. Sharp Award for Creative Work in International Relations at the Graduate Level: Amparo Garcia
 
Alan Taylor Award for Excellence in Middle East Studies and University Service: Rachel Tranick
 
Harold Davis Award for Outstanding Scholarship in Latin American Studies: Amelia Frank-Vitale
 
Charles H. Heimsath Award for Excellence in Style and Substance of Written Work in International Relations at the Undergraduate Level: Garrett Harkins
 
Pittman B. Potter Award for Outstanding Scholarship in International Law and Organization: Karun Tilak
 
Frank Willis Scotton Award for the Undergraduate Student Who Best Exemplifies the Ideals of Service Embodied in the Mission of the School: Annie Adam

Sigma Iota Rho Inductees
Farida Aboumagd
Rita Ambrosetti
Rebecca Anderson
Alex Andrew
Meaghan Archer
Maria Beihof
Rebecca Borton
Hannah Bryant
Elizabeth Calos
Yanique Campbell
Kaitlyn Chapman
Minjun Chen
Jaim Coddington
Philip Cofone
Chelsea Cohen
Carla Cortavarria
Katherine Cotsonas
Quinn Creamer
Andrew Daly
Anastasia Dolph
Andrew D. Feierman
Eric Fleddermann
James Fleming
Ayana Furuta
Krystal Garvin
Florian von Gierke
Victoria Glynn
Wyatt Gordon
Kacie Hackett
Brooklyn Hamel
Patrick Hanlon
Olivia Henshaw
Christine Hilt
Jennifer Hirschorn
Justin Van Der Horn
Carly Jones
Megan Karpf
Daniel Knoll
Chul Hun Lee
David Lindgren
William Alex Litchfield
Chelsea Lynn
Kaitlyn Maloney
Catherine Manhardt
Emily Manna
Allena Martin
Nicole Martini
Lucy Matthews
Kaitlin McDonald
Travis McKay-Roberts
Brianna Musselman
Kara Naseef
Kate Nazareth
Pamela Oliver
Alina Ostrow
Autumn Patterson
Lauren Powell
Thomas Qian
Christopher Ralphs
Stephanie Reed
Micaela Samodelov
Randi Saunders
Miranda N. Schaeffer
Anna Sebastian
Danielle Sleeper
Sarah Souder
Nicholas Stewart
Martin A. Taylor
Alexander Thorp
Devin Turner
Megan Turner
Anna Vasylytsya
Ryan Youra
Alexander Ward
Rebecca Whedon
Thomas Winslow
External Awards
Robert Bosch Foundation Fellowship Program is given each year to twenty accomplished young Americans, allowing them the opportunity to complete a high-level professional development program in Germany.
Rebecca Ernest
Critical Language Scholarship Program offers intensive summer language institutes overseas in thirteen critical need foreign languages.
Jeremy Cohen
Maura Farrell
Bryan Yannantuono
Skyler Mencke
DACOR Bacon House Foundation Fellowship was established to develop mutual international understanding and strengthen ties between the people of the United States and other nations. It pursues programs of a public and educational nature to enhance awareness of and foster educated leadership in international affairs.
Willow Williamson
Fulbright Grants were established in 1949 by Congress to promote mutual understanding between U.S. citizens and people of other nations. The fellowship offers students, scholars, and professional opportunities to undertake international graduate study, advanced research, university teaching, and teaching in elementary and secondary schools worldwide. 
Ben Williams
Divya Narayanan

Benjamin A. Gilman International Scholarship provides awards to undergraduates to study abroad for a semester or academic year. The program encourages students to choose non-traditional destinations, especially those outside Western Europe and Australia.
Alexandra Langdon
Brittany Haga
Institute for International Public Policy Fellowships intend to increase the participation and influence of under-represented minority groups in international affairs.
Sai Kuchibhotla

Killam Fellowships provide an opportunity for exceptional undergraduate students from universities in Canada and the United States to spend either one semester or a full academic year as an exchange student in the other country. 
Victoria Frappaolo
 
Presidential Management Fellowship, established by President Jimmy Carter in 1977, is a highly selective fellowship designed to attract outstanding graduate students from a variety of academic disciplines and career tracks to federal service. National finalists rotate through multiple assignments in federal agencies over a two-year period, most often resulting in permanent employment with the federal government.
Asmeret Asghedom
Amparo Garcia
Lena Gerer
Julia Kennedy
Laura McGinnis
Leah Smith
Benjamin Williams

Public Policy and International Affairs Fellowship prepares young adults for an advanced degree and ultimately for careers and influential roles serving the public good.
Nora Brito
Jake Chan
Brian Chang
Harold Rosenthal Fellowship in International Relations offers qualified students pursuing a career in international relations the opportunity to spend a summer in professional fellowship positions with a Member of Congress or in the State Department.
Seth Maddox