Achievements
News and Notes 7/19/12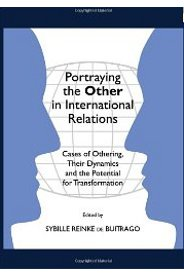 Sybille Reinke de Buitrago, SIS/BA/MA '98, '00
recently edited Portraying the Other in International Relations: Cases of Othering, Their Dynamics and the Potential for Transformation. 2012. Herausgeber & Einleitung. Newcastle upon Tyne: Cambridge Scholars Publishing. The book's abstract describes it as "[discussing] othering from diverse angles and with different conceptual approaches, illustrating the multiple forms othering can take. They show how othering can be studied and its dynamics and consequences critically analysed and more comprehensively understood, but also the limits to these attempts. Various motivations for engaging in othering are elaborated."
Professor Pek Koon Heng
(Comparative and Regional Studies) has received a grant from the U.S. Department of State. AU's Washington Institute for Public and International Affairs Research (WIPAR) reports that the funding will be for two symposia this fall, and "the ASEAN Studies Center will convene experts from and who specialize in the Association of Southeast Asian Nations (ASEAN) and East Asia Summit (EAS) to join their U.S.-based counterparts in discussing leading strategic issues in the region."
Trey Lewis, SIS/MA '12
(Global Environmental Politics blogged about Project Healing Waters for the Environmental Protection Agency's blog, "It's Our Environment," in June 2012. Lewis currently serves as an ORISE Fellow with the EPA's WaterSense program.
Alejandro Neyra, SIS/MA '12
(Master's in International Service) received The Peruvian Book Chamber's first prize for short novels for his book,CIA Peru 1985. Neyra wrote the book while a student at SIS.
Allison Lawlor Russell, SIS/MA '04
(Comparative and Regional Studies) successfully defended her dissertation, "Cyber Blockades: Towards a Theory of Informational Warfare in the Digital Era," at the Fletcher School at Tufts University on July 12.
Professor Susan Shepler
(International Peace and Conflict Resolution) and her team of six master's students, as part of a program through Search for Common Ground, finished their pilot practicum project on a national youth assessment and created a video detailing the goal of the project and their efforts.

Professor Gary Weaver and the Intercultural Management Institute
(International Communication) have been awarded funding to conduct assessments of two civil society programs funded by the Rockwool Foundation in Lebanon. According to WIPAR, "Specifically, IMI will assess the impact of a series of youth football schools organized by the Cross Cultures Project Association (CCPA), which gathers youth in divided communities to participate in football camps, and a television series titled "The Team," which is run by Search for Common Ground (SFCG) and depicts a football team composed of footballers from Lebanon's various ethnic communities. (IMI will also evaluate a previous television series produced by SFCG, as well as an Inter-School Football Tournament managed jointly by SFCG and CCPA.)"