In the Community
SIS Offers AU's First Three-Year Degree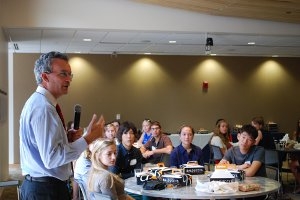 The Global Scholars program is the first three-year B.A. offered at American University. The program accepted its first class of 57 high-achieving students in August 2011.

The program, profiled in U.S. News and World Report, The Chicago Tribune and USA Today, caters to academically motivated students who have a passion for studying international relations, said Professor Sarah Cleeland Knight, the program's director.

While the program received over 400 applications for the class of 2014, we "wanted to keep it small to focus on each student," said Knight.

Distinctive opportunities for the participants include specialized internships and living-learning communities, where the first-year students live together, supported by second-year Global Scholars.

"We have monthly community meetings," said Knight. "We've hosted speakers from the World Bank and the U.S. Agency for International Development. On Nov. 6, Dean Goldgeier will talk about U.S. foreign policy and the election, and we'll go to the election night party in the SIS building to watch the returns."

In August 2012, the program began mentoring the first-year students by second-year Global Scholars.

"The students were paired by their interests," said Knight. "They've met during the community meetings, but they also get together informally once a month. That's been helpful in terms of navigating course registration, student activities and how to be a successful student."

Summer study trips are a highlight of the Global Scholars program. In 2012, the students traveled to Costa Rica and the Galapagos Islands.

"Studying abroad is a chance to complete core requirements toward the degree, and these courses are taught by AU experts in their field," said Knight. "But students also take advantage of the experiential learning elements. They learned about global environmental politics in the Galapagos, and studied international development in Costa Rica."