In the Community
Private and Public Sector Programs Assist with SIS Tuition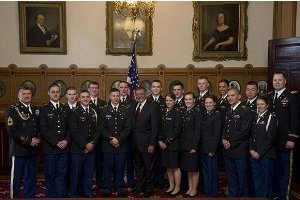 Graduate school is an expensive proposition. However, SIS students are finding alternative funding.

Sebastian Insfran Moreno, SIS/MA '13, is one of many SIS students who receives employer funding. In his case, the Central Bank of Paraguay and the Organization of American States are contributing to Moreno's SIS tuition and living expenses.

Although he was interested in graduate school, "Knowing that my employer might encourage my desire was a great motivation to start the whole process of applying to graduate schools and looking for scholarships," said Moreno.

Like many of these employer-sponsored programs, there is a catch - Moreno is required to return to Paraguay after completing his master's degree and work with his employer for another six years.

"I've come across more international students than domestic students who have that benefit," said John Charles of AU's Career Center. "It's typically going to be private-sector employers, as well."

But some public-sector programs have subsidized graduate student tuition for years.

The U.S. Department of the Treasury partially funded SIS Professor Emeritus Stephen Cohen's graduate courses in the 1960s.

"The SIS doctorate that I eventually received qualified me several years later to join the SIS faculty," Cohen said. "I was the first full-time instructor in international economic policy."

Other governmental programs contribute to tuition and include perks. Students awarded the Charles B. Rangel International Affairs Graduate Fellowship or the Thomas R. Pickering Graduate Foreign Affairs Fellowship are awarded financial support for their graduate program and a position in the U.S. Foreign Service upon completion of their degree.

The U.S. Army has been funding education since the creation of the GI Bill in 1944, and Sam Stowers, SIS/MA '13, has benefited.

"The Army gave me a full scholarship and a meaningful job that will leverage my degree. They have encouraged me intellectually and professionally," said Stowers.

SIS is even piloting a new program to provide matching funds for incoming students who receive educational benefits from their current employer. Director of Graduate Enrollment Management Amanda Taylor is excited about this opportunity.

"This employer matching program promises to help provide financial support to many of our incoming students who are poised to contribute valuable perspectives to our classrooms and community based on their current work in the field," said Taylor.

Both the students and the sponsoring organizations profit from these arrangements.

"Since joining the Army, I've served as a Military Fellow and on various D.C.-area inter-agency task forces to further my career, and these opportunities would not be possible without a military background and the support of AU's ROTC Battalion," Stowers said. "The Army needs graduate students. They get excellent thinkers and leaders who have initiative and are already dynamic people."

To learn more about SIS's matching funds program, contact Amanda Taylor.