International
Eagles Helping and Hiring Eagles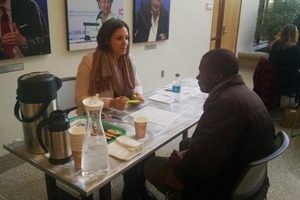 The School of International Service offers many ways for alumni to engage with students and help them with their careers. SIS alumni are found in all parts of the world and in many different career sectors. Several new initiatives at SIS allow students to tap into this valuable global network.
SIS Alumni Relations and Development partnered with the AU Career Center in early March to offer the first SIS Resume Review Week at the Davenport Coffee Lounge for graduate students. More than 160 students participated and had the opportunity to have their resumes reviewed by and submitted to the nearly 20,000 alumni in the SIS global alumni network.
Alumni who are interested in hiring students for fellowships, internships, and jobs can view the students' resumes on SIS Resume Books, which is hosted by AU CareerWeb, a career management system that provides students and alumni access to career resources. The resumes are categorized by interest area:
• Intelligence & Security
• International Development
• International Education
• Economics
• International Communication
• International Peace & Conflict Resolution
• Consulting
Stephanie Block, associate director of SIS alumni relations, underscores that the investment students have made in their degrees connects them to the SIS global alumni network.
"We rely on our alumni to volunteer, mentor, lecture, teach, inspire, recruit, and hire -- and as a result of this effort we want to easily connect our SIS global alumni network to our amazing students," Block says. "To do this, we are providing alumni access to seven different resume books that do not require registration."
SIS students and alumni often share stories about how they were hired by SIS alumni. Block and the SIS Alumni Relations and Development team hope the SIS Resume Review Week will result in many more such tales of Eagles helping and hiring Eagles.
Students and alumni who participated in the SIS Resume Review Week are encouraged to e-mail success stories to sisalum@american.edu
The American University Alumni Association provides a variety of valuable resources to alumni. SIS alumni are encouraged to reach others in their SIS global network by using LinkedIn in conjunction with the AU Alumni Online Directory. Additionally, the AU Career Center offers an array of networking tips and resources as well as career advising appointments for alumni. Schedule an alumni career advising appointment online or by phone at 202-885-1804.