International
Reflections on Civil Rights in Selma, Ferguson, and Baltimore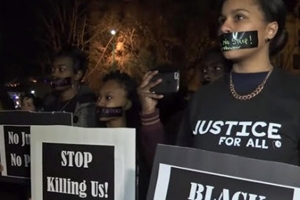 Professorial Lecturer Barbara Wien and her students visited Selma, Alabama in March for the fiftieth anniversary of the 1965 Selma to Montgomery civil rights marches. They then traveled to Ferguson, Missouri to march alongside protestors and to participate in citizens' human rights hearings with those who have suffered from police brutality. Wien and Jessica Obi, SIS/MA '15, reflect on their experiences -- and the recent riots in Baltimore, Maryland -- in the following commentaries.
From Selma to Ferguson: What's at the Core of our Current Police Crisis?
Wien is a longtime peace and human rights activist who teaches about civic engagement, grassroots movements, and nonviolence.
As we witness the rise of a new Civil Rights movement against police brutality in the United States, we cannot ignore the anguish of our African-American brothers and sisters, nor go about our business as usual. The urgent task before us as public intellectuals and educators is to build powerful coalitions with our students to end violence in U.S. culture. We must build powerful coalitions with our students and engage in informed dialogues if we are to change the course of human events in our nation.
Where do we begin this task after so many lives have been lost? Truth telling about systemic racism is the first step in a painful journey toward atonement and transformation. What follows are my reflections while traveling with students from Selma, Alabama to Ferguson, Missouri from March 5-15, 2015.
Students and professors from American University and Bucknell University drove to Selma for the historic reenactment of the great Civil Rights march fifty years ago. It is estimated that 71,000 people descended on the small town in March 2015 in commemoration of the historic fight against racial injustice. Unfortunately, not much has changed in Selma in fifty years. Although "Whites Only" signs are gone, approximately 40 percent of residents live below the poverty line and the unemployment rate is two times higher than the state average. Many of the dusty storefronts we passed were abandoned.
Elected officials, celebrities, and the media did not seem to take much notice of the economic plight of the locals. Despite these conditions, we met inspiring organizers and citizens everywhere we went. While marching across the bridge to Montgomery, I met poor, elderly residents who asked for help with predatory landlords and banks and medical care. I also met White military instructors from a nearby army base who said the many traffic tickets and bench warrants issued to African Americans are a way of suppressing the Black vote.
I learned on this trip that criminalizing African Americans allows Whites to deflect responsibility for the legacy of slavery and the resulting structural inequalities in housing, education, employment, banking, policing, mass incarceration, courts, the legal system, health care, and other institutions. Police simply serve as the blunt instrument for the rest of us. Criminalizing African Americans is deep in our psyche. It allows Whites to project our deepest fears about ourselves onto "The Other."
After Montgomery, we caravanned to St. Louis for a "Truth-Telling Weekend" where youth of color spoke of being brutalized by police. I learned in Ferguson that the human windpipe is broken when a person is lynched. Eric Garner's windpipe was also broken in Staten Island. Therefore, the chant "I can't breathe" evokes the memory of the thousands of lynchings that occurred over generations and connects the conditions of yesterday to today. Modern day lynchings are a reality when almost 5,000 unarmed citizens have been shot and killed by police in the United States since 2000.
Black Americans are not passively submitting to such criminalization. In the past, there were hundreds of slave rebellions. Today, we see hundreds of nonviolent actions against police brutality and the militarization of our communities. Young brothers and sisters will not tolerate deflection and racism anymore. A new generation is rising and the narrative is changing. Awareness is growing that racism is a White problem and we have a lot of work to do. We cannot return to business as usual.
AU offers courses, teach-ins, faculty meetings, rallies, performances and plays, "unlearning White privilege" workshops, and campus dialogues. Students, administrators, and faculty are trying to come to grips with the unfolding crisis. I hope we will all heed the call to be "allies," not bystanders to history.
Recently in Baltimore, we saw rioting, but also hundreds of acts of nonviolence. Citizens of Baltimore have actually been marching nonviolently against police violence since 1948 when a Black soldier who had just returned from World War II was shot by White police. We are at a watershed moment in U.S history. This time we must not look away and "pretend that we just didn't see."
Witness to Ferguson
By: Jessica Obi
Obi is a master's student in the Ethics, Peace, and Global Affairs (EPGA) program. Here, she reflects on her experiences participating in the Truth Telling Project in Ferguson, Missouri.
Think about what you saw on the news about the events in Ferguson. You watched footage of riots and violent outbreaks in the streets. In reality, nothing can describe what it was really like to be in Ferguson at that time -- to meet and march alongside the people who call the town their home. That Ferguson was not captured on camera.
On my first night in St. Louis in March, I joined my professor, Barbara Wien, for a facilitator training meeting as part of a Truth-Telling weekend. After the meeting, we headed to downtown Ferguson to join in on a demonstration in front of the Ferguson Police Department.
Our procession walked a few hundred feet, circled back around, and then gathered in a parking lot across the street from the station. One of the leaders of the march had a bullhorn, calling for those who had been out protesting since the day that Mike Brown was shot to share their stories of why they were there.
It was here that I witnessed community level truth telling. Ironically, we were preparing for a weekend that took an immense amount of planning and diligence, yet in this moment, people came together with little effort to speak their truths.
One of the leaders mentioned that when you break bread with someone, you become a part of that person's community. In Ferguson, we broke bread together, protested, marched, and sang. I learned more in that weekend about the power of a movement and its people in making change than any academic course could teach me.
Ferguson is the spark that the United States needs right now, and I stand in solidarity with its people -- and many others nationwide -- who are refusing to accept the system as it is.
No justice, no peace.