International
Women's Council Supports Pakistani Entrepreneurs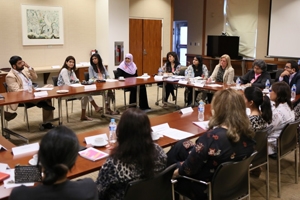 Dynamic Pakistani women have long influenced the history of their country -- from Fatima Jinnah, one of the leading founders of Pakistan, to Benazir Bhutto, the first female Prime Minister of a Muslim country. However, millions of Pakistani women are still unable to realize their full potential.
American University and the U.S. Department of State sought to address this problem by establishing the U.S.-Pakistan Women's Council in 2012. The Council is based at AU's School of International Service and is committed to increasing the number of Pakistani women in the workplace. Since its founding, the Council has built bridges between the United States and Pakistan and has supported the economic empowerment of Pakistani women through of its initiatives in entrepreneurship, employment, and education.
Low female participation in the workforce exacerbates Pakistan's economic challenges. According to the World Economic Forum's 2014 Gender Gap Report, Pakistan ranks well below the world average in making economic participation, health, political engagement and educational opportunities equally available to girls and women. This reality hurts Pakistani families, Pakistani companies and public institutions, and ultimately, the Pakistani economy and society.
Melanie Bixby, Executive Director of the U.S.-Pakistan Women's Council, attended the annual Pakistan-U.S. Business Opportunities Conference in Islamabad in March along with U.S. Secretary of Commerce Penny Pritzker, Honorary Council Advisor and Pakistani Ambassador to the United States Jalil Jilani, and other high-level officials. For the first time, the conference featured a plenary session on women's entrepreneurship and employment issues in Pakistan. The session was attended by Coca-Cola, Procter & Gamble, PepsiCo, and Engro, among other large corporations.
Over the course of three weeks in Pakistan, Bixby met with female entrepreneurs, business leaders, and associations to advance the Council's efforts to increase the number of Pakistani women in the workplace. The Council, through its network, will aim to link more qualified female candidates to corporate employment opportunities. The U.S. Embassy's Pakistan-U.S. Alumni Network (PUAN) of students and professionals is among those partnering with the Council.
The Council also brings underprivileged Pakistani high school girls to the United States to attend pre-college summer programs on leadership, entrepreneurship, and foreign relations at American, Harvard, Smith, and other universities through the U.S. Summer Sisters Exchange Program.
Bixby, who has more than twenty years of U.S. State Department experience working in regional, foreign assistance, and global issues, also advocated for the creation of the Pakistan Women Entrepreneurship Program (PWEP). PWEP, launched on March 25 as a joint initiative of AU and the Lahore University of Management Sciences, is an entrepreneurship certificate program that will help women start and scale businesses in a practical and integrated fashion.
According to Bixby, many companies in Pakistan now seek to hire women, but despite intentions to reach 50 percent female employment, they struggle to meet their target. Companies cite a hard time finding qualified women candidates, especially companies requiring science, technology, engineering, or math (STEM) skills. However, as more girls are encouraged to complete their education and build careers, this can change.
Bixby is confident that the U.S.-Pakistan Women's Council can help make an impact by partnering with companies and business associations to provide internship and training programs for Pakistani women.
Learn more about the U.S.-Pakistan Women's Council at SIS: http://www.american.edu/sis/us-pakistanwomenscouncil/
Read about the launch of the Pakistan Women Entrepreneurship Program: http://www.american.edu/sis/news/20150420-American-University-Launches-Pakistan-Women-Entrepreneurship-Program.cfm
Ali is the Program Coordinator for the U.S.-Pakistan Women's Council at SIS.