International
Student Explores Migration Pressures in Mexico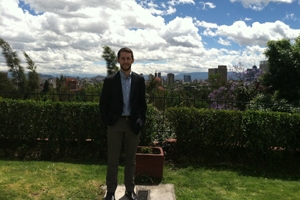 The Practica Program at the School of International Service is designed to give second-year master's students real-world experience in project management and consulting while preparing them for post-graduate careers. A spring 2015 practicum team, led by former senior government official Fulton Armstrong of the Center for Latin American and Latino Studies, traveled to Mexico to examine migration pressures from Central America to the United States. We asked Chad Whatley, SIS/MA '15, a participating student, to share his experiences with us.
First, why did you decide to attend the School of International Service?
I came to the School of International Service for a number of reasons. First, the school's reputation for excellence is well known in the international affairs community. The faculty at SIS has been fantastic, as well as my fellow classmates in the Global Environmental Politics (GEP) program. Second, the school's commitment to sustainability was a huge factor in bringing me here for graduate study in the GEP program. It was a great choice. The practicum was also another reason why I chose to come to SIS, as it allowed the opportunity to gain professional experience in international environmental affairs.
What motivated you to join the SIS Practicum Team on Migration Pressures?
I received my undergraduate degree in Spanish and spent the 2014 academic year studying in Costa Rica with the Natural Resources and Sustainable Development (NRSD) program, so this practicum in particular fell right in line with my academic background and career interests. It was also compelling for me because it seemed like an incredible opportunity to address a timely political issue: migration from Central America to the United States.
Can you tell us more about the research, fieldwork, and clients involved?
Our goal was to understand the drivers of migration -- the factors that "push" people to abandon their homeland and that "pull" them to the United States -- and analyze how the policies and programs of the United States and its partners could better address those causes.
To explore these issues, our team conducted research, interviews, and fieldwork on the economic and political forces that drive migration. My work took me to Mexico City over spring break, where I was able to interact with U.S. Embassy and Mexican Foreign Ministry officials, members of civil society, academia, and locals to discuss the issue of migration.
Our faculty advisor was Fulton Armstrong, a former U.S. government official now at the AU's Center for Latin American and Latino Studies, and our client list included: the U.S. Department of State, U.S. Department of Commerce, Office of the Vice President, U.S. Conference of Catholic Bishops, and the embassies of Honduras, Guatemala, and El Salvador.
What were some of your main research findings?
The issue of migration is complex, and since we were dealing with four different countries there were often anomalies. Economics and governance were huge factors across the board; however, violence actually became less statistically significant than we originally projected. For my part, I focused on environmental issues and how they impacted migration flows. This may seem not as important as other drivers like the youth bulge, but the research indicated a cyclical effect between these issues and climate change, natural disasters, overpopulation, food insecurity, and soil degradation. Thus, the issue was interesting to be engaged with, and to unpack and explore.
How would you describe your practicum experience?
The practicum experience was challenging, but rewarding. I gained experience in using critical professional skills, including briefing, memo and grant writing, policy analysis, and most of all, teamwork. I know these skills will be beneficial in my future career in international environmental affairs.
What advice do you have for other students who might want to join a practicum?
My advice would be to apply for the subject you are interested in or the one in which you will gain the most experience. Luckily, I was able to do both because my practicum was on a cool topic and I got to work for my ideal clients. Not only that, but I also received the opportunity to learn from a wonderful practicum advisor.
I could not be more pleased with the practicum I chose during my final semester. It was a fantastic experience!
Learn more about the SIS Practica Program: http://www.american.edu/sis/practica/index.cfm
Interested in pursuing or sponsoring a practicum? Contact Stephanie Fischer, the director of Experiential Learning, at fischer@american.edu