International
Spotlight on the Intercultural and International Communication Program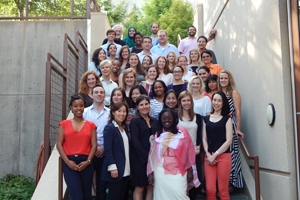 The Intercultural and International Communication (IC) program at the School of International Service is for students who are interested in the intersection of culture and international affairs. IC encompasses the study of culture, communication, and social systems at the local, national, and global levels, and examines identity, culture, and technology as they relate to communication.
We asked Professorial Lecturer Amanda Taylor, director of the IC program, to tell us more:
What is the mission/vision of the IC program?
Our goal is to prepare interculturally competent professionals with the international communication knowledge and skills necessary to address the global challenges of our time.
How is the program unique?
The particular strength of the IC program is that we centrally consider the role of culture in international affairs and its role in interactions, programs, and policies. Established in 1968, the IC program is the first of its kind in the nation and remains an innovator in the field. In addition to our strategic Washington, DC, location, what truly distinguishes our program is our focus on the intersection of intercultural relations and international communication. In the IC program, we not only study culture, but we also care about building a particular culture within our community -- one in which we challenge each other while simultaneously supporting one another.
In the program, we focus on the role of culture, media, and technology in shaping (and reshaping) global issues at the international, interorganizational, and interpersonal levels. We explore the role of social media in shaping international relations, recognize the cultural underpinnings that inform diplomatic relations, and examine the emergence of public and cultural diplomacy. We consider the cultural dimensions of health communication, participate in the development of internet governance regulations, and consider the relationship between international relations and transnational education. Through our program's structured flexibility, students develop a core foundation in the field, and they also work on building or enhancing an area of expertise by selecting from among our concentrations within the program or across the school.
What are some things your program does to further your students professionally?
Our goal is to ensure that students can understand and analyze the role of communication in shaping international and interpersonal relations, and that they also develop the concrete communication skills necessary to translate these frameworks into effective professional practices. To do this, all of our courses integrate theory and practice. We use simulations, case studies, and applied client projects in all of our courses to build this bridge between the classroom and the field. We also punctuate our core courses with skills-focused intensive weekend institutes in which we hone in on key tools to enhance students' professional portfolios. Our students learn how to apply their new knowledge to concrete case studies in public diplomacy, technology policy, health communication, and international education. They build the skills necessary to support the key communication needs of effective internationally-focused organizations, including building culturally-relevant strategic communication plans, developing intercultural trainings, analyzing global technology policy, managing international education and exchange programs, developing digital diplomacy initiatives, and using targeted communication in support of international development goals.
IC faculty also host several SIS practica, in which teams of students partner with organizations across sectors to serve as short-term consultants as their program capstone project. We've hosted practica focused on strategic communication, cultural diplomacy, intercultural leadership development, and assessment in international education. We've partnered with organizations including Save the Children, the Atlantic Council, Global Ties U.S., Teach for China, and the Alliance for International Education and Cultural Exchange.
How does the program engage its alumni?
We engage our alumni in our program in many different ways to ensure the preparation of our students for careers after graduation. This year, we have piloted a series called the "IC Student-Alumni Collaboratories" in which alumni of the program volunteer to come to campus for a Saturday afternoon to share their knowledge with students about specific career-ready skills they've developed through their work. We also regularly invite alumni to build networks with students through various events, such as the annual IC Community Reception. We've also encouraged alumni and students to create new projects to enhance their professional skills through our inaugural IC Program Innovation Fund.
What is a typical IC student like?
Our students are active, engaged, and passionate. They are diverse, drawing from various backgrounds and professional pathways prior to joining IC. They are deeply curious and seek to deepen their understandings of the complex ways that culture and communication shape international relations.
Learn more about the IC program here: http://www.american.edu/sis/ic/
Read profiles of current IC students here: http://www.american.edu/sis/ic/meetourstudents.cfm