International
First Class of International Economics Students Graduates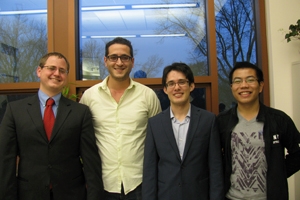 The inaugural cohort of master's students in the International Economics (INEC) program graduated in spring 2015. The program, launched by the School of International Service (SIS) together with the Department of Economics in the College of Arts and Sciences (CAS) in fall 2013, is designed for students who wish to combine substantive economic analysis with an understanding of how that analysis is applied in the international spectrum.
The goal of the joint program is to prepare students for professional careers as international economists—whether in multilateral organizations, government agencies, multinational corporations, public-advocacy firms, industry associations, or research institutes.
SIS Professor Arturo Porzecanski, co-director of the program along with Associate Professor Kara Reynolds of the Department of Economics, underscores that a strong market exists for a demanding MA degree in international economics.
"This is one of the few programs in the United States and beyond that offers specialized training in international economics at the master's level," explains Porzecanski, who is also the director of the International Economic Relations program at SIS and a former high-level Wall Street economist. "To meet market demands, our rigorous curriculum provides specialized training in theoretical, empirical, and policy-oriented economics, as well as in international political economy, trade and finance with a focus on proper policymaking. Upon graduation, our students will possess the expertise they need to market themselves as international economists."
The inaugural class included four students:
Ngoc Phan, SIS/MA '15: Phan currently works in a temporary position at the World Bank. Phan, a native of Vietnam, received his bachelor's degree from Colgate University in Economics and International Relations in 2013. During his time in the INEC program, Phan worked as a research and teaching assistant for SIS professors Pek Koon Heng-Blackburn and Mohamed Alaa Abdel-Moneim. He also interned at the National Opinion Research Center at the University of Chicago in Bethesda and the Center for Strategic and International Studies. Phan will attend Duke University for a PhD in Political Science in the fall with a full tuition scholarship. He hopes to return to Washington, DC, one day to teach.
Eliot St. John, SIS/MA '15: St. John works currently as a Compliance Analyst at the U.S. Department of the Treasury in the Office of Foreign Assets Control. St. John received his bachelor's degree in 2012 from the University of Hawaii at Manoa with majors in Economics and Political Science and a minor in Spanish. In 2012, he was a financial planning assistant with the firm Wealth Strategy Partners in Hawaii. While a student, St. John served as a research assistant for SIS professors Jessica Trisko Darden, Michelle Egan, Manuel Suárez-Mier, and Neil Shenai.
Kyle Toman, SIS/MA '15: Toman is currently a Pathways Economist at the Bureau of Economic Analysis in the U.S. Department of Commerce. Prior to joining the INEC program, Toman served in the Peace Corps in South Africa. Toman received his bachelor's degree from Mars Hill University with majors in Mathematics and Business and a minor in Political Science in 2012. While at AU, Kyle interned at the U.S. Department of Commerce (International Trade Administration and Bureau of Economic Analysis) and the U.S. Department of State (International Organization/Office of UN Political Affairs). He also served as a teaching assistant for SISU-300, the Introduction to International Economics course taught by SIS Professor Stephen Silvia. Kyle hopes to remain in Washington, DC, and work for the federal government in a role related to international economics.
Elias Yazigi, CAS/MA '15: Yazigi formerly worked as a Junior Contracts & Grants Analyst at the Summerill Group in Washington, DC. A native of Syria, Yazigi interned at a law firm in Syria in the summer of 2008. He received his bachelor's degree in Economics from George Mason University in 2011.
Reflecting on his experience with INEC, Phan said: "The program is strong with regard to equipping us with quantitative skills and statistical software."
Learn more about the International Economics program: http://www.american.edu/sis/internationaleconomics/index.cfm
Read more about the launch of the International Economics program: http://www.american.edu/cas/news/international-economics-ma.cfm