International
Faculty Conduct Policy Research at the Wilson Center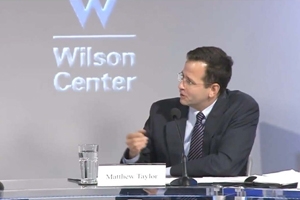 In the past four years, several faculty members at the School of International Service (SIS) have received prestigious fellowships at the Woodrow Wilson International Center for Scholars. The robust SIS representation in the fellowship program highlights both the commitment by Dean James Goldgeier to support policy-relevant scholarship and the high quality of SIS faculty research.
"SIS has been fortunate to place so many fellows at Wilson, and I think this says volumes about the quality of my colleagues," said Professor Matthew Taylor, who recently completed a one semester fellowship.
Through an international competition, the center offers residential fellowships to outstanding scholars with the intent to inform policies on global issues. Fellows conduct research in their areas of expertise, through access to invaluable resources such as the Library of Congress, and interact with policymakers in Washington, DC.
"Wilson provides an excellent environment to conduct a range of scholarly research that has broad policy implications beyond Washington, DC," said Professor Michelle Egan, who will begin her nine-month fellowship in September. "Many of our SIS colleagues have long standing ties with the Wilson Center, and this will hopefully continue in the future."
Among the faculty who have received Wilson Center fellowships are:
Jordan Tama: At Wilson, Tama focused on his latest book manuscript, tentatively titled Bipartisanship in a Polarized Age: How Republicans and Democrats (Sometimes) Cooperate on Foreign Policy. In this work, Tama examines the extent to which political polarization in the United States is reducing bipartisan cooperation on foreign policy and the factors that facilitate or prevent foreign policy bipartisanship. Tama says: "I find that foreign policy bipartisanship remains relatively common despite the very high levels of overall partisan polarization today and that, on many foreign policy issues, the key political fault line lies more between Congress and the president than between Democrats and Republicans."
Matthew Taylor: At Wilson, Taylor undertook research on the political economy of democratic Brazil. Taylor says: "Despite low relative economic growth, Brazil has achieved favorable human development gains over the past thirty years. However, the economy vacillates between euphoria and despair, and Brazil did far less to undertake neoliberal reforms than many of its Latin American neighbors. The goal of the manuscript is to think about how democracy has shaped these outcomes, as well as what explains Brazil's strong institutional and societal commitment to state-led capitalism."
Michelle Egan: Egan will serve in the Global Europe program at Wilson to work on her next book, tentatively titled An Atlantic Pivot: From Competitive Liberalization to Coordinated Market Integration. Egan says: "With the negotiations underway for the Transatlantic Trade and Investment Partnership (TTIP), the United States and the European Union have embarked on a major trade initiative that has significant implications for global governance. Researching an ongoing trade agreement can be difficult as most participants are not free to interview during negotiations. Conceptualizing the current U.S.-EU as part of a broader pattern of mega regional free trade agreements and their potential impacts on domestic economies will hopefully yield new insights."
According to Taylor, the Wilson Center provides a space for bridging academic and policy communities.
"I think that Wilson has an extraordinary mission of encouraging regional expertise and policy-relevant work that meshes well with the cross-disciplinary nature of SIS. This was one of the most refreshing aspects of being at Wilson: engaging in a regionally-informed discussion in ways that went far beyond my discipline," said Taylor.
Faculty who are interested in pursuing Wilson Center fellowships may contact the International Affairs Research Institute at iari@american.edu with questions or to be connected with previous fellows.