International
From Undocumented Immigrant to American University Graduate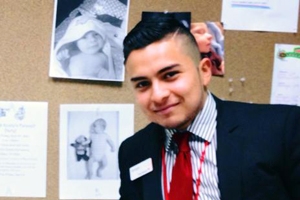 Enrique "Ernesto" Benavides, SIS/BA '15, came to the United States illegally in 2006 when he was 14 years old. Along with his father, Enrique travelled approximately 1,400 miles and endured separation, the threat of police and border patrol, exhaustion, and other hardships to reunite with his mother and brother in Texas. As an undocumented child, Enrique struggled to find acceptance in his community and at his school. Now a legal permanent resident, he recounted his story in a term paper for an independent study course with Professor Elizabeth Cohn. Below is an excerpt about his journey from El Salvador to American University:
Every day, approximately 300 Salvadoran immigrants start their trips in the hope of reuniting with their families in the United States. In 2006, my dad and I—seeking to join my mother in the United States—were two more.
A truck dropped off our group of ten immigrants at the shoulder of a mountain that divided Guatemala and Mexico. The mountain was steep, covered by short thorny trees and rocky, slippery terrain. We barely made it to the top of the mountain, and I was weary from lugging two backpacks and a gallon of water. My dad was the last to make it to the summit. As he approached me I could see his exhaustion.
The coyote, who was guiding our group to the United States, advised us to find somewhere to rest. I looked around and admired the beautiful landscape of the mountain. This trip would be an adventure, I tried to convince myself. Then, someone fired a gun. I heard the coyote scream, "Salven sus vidas!" (Save your lives!). I always wanted to move to the United States, but this was not how I imagined how I'd get there.
                                               *             *             *
After more than two weeks travelling through Mexico, including a week when I was separated from my father and afraid, our group reached the United States-Mexico border in the Arizona desert. Among bushes, trees, and mud we ran through to the other side.
We walked for four days and nights until finally a big truck arrived and the coyote yelled for everyone to jump on. Rushing, I found a spot on top of a greasy spare tire. We drove in the dark, across hills, holding onto each other to avoid flying out the truck or being speared by the cactuses along the road.
This journey from El Salvador to Texas was the longest three weeks of my life, but at the end of it my dad and I were reunited with my mom. Finally we could live together as a family again. But the price of family reunification was even higher than risking our lives trekking through Mexico and the Arizona desert. The real challenge was to keep our family together in the United States, in a world completely foreign to us all. No-one in my family could speak English, and whereas my parents had run a successful business in Salvador, we now had to start from the bottom and learn a new system of life.
                                                *             *             *
The high school year started and I knew its importance as a preparation for college. Undocumented Hispanics like me often represent negative figures of high school dropouts, people who cause trouble, or workers with low wage earning jobs. I hoped this stigma wouldn't affect me throughout school, as I was determined to succeed. From my first day of class, my goal was not only learning English, but getting the best grades possible. Slowly, throughout my freshman year, I improved my English with the assistance of my English as a Second Language (ESL) teacher.
The next year, I requested to be enrolled in AP World History. My counselor was skeptical because these were college level classes, but my ESL teacher supported me and believed that I could succeed. Every weekend, I studied from 6:00 a.m. to 6:00 p.m. for this class and at the end of the year, and I achieved a 5, the highest score on the national exam.
More than ever, my dream was to earn a college degree. My ESL teacher advised me during my junior year that American University would be the best choice for my career goal of influencing U.S. foreign policy and Latin America. I was thrilled when I received the news that I had been accepted to American University's School of International Service. But then U.S. Immigration and Customs Enforcement notified me that I needed to be interviewed at the U.S. Embassy in El Salvador for my permanent residency. That meant leaving behind my family and all I had worked for, including those college opportunities, to return to El Salvador and enter the country legally.
Two years after petitioning for forgiveness for entering the United States illegally, I received my permanent residency and was once again reunited with my parents in Texas. After two years of community college in Texas, I transferred to American University, where I learned the bigger picture of immigrants' struggles and reflected on my own story. I also had the opportunity to work at the Latino Student Fund and the Embassy of El Salvador in Washington, DC.
                                                  *            *            *
Throughout my mother's entire life she dreamt of family reunification. Now that I have graduated, I am a consultant with the World Bank in Washington, DC, and will visit my mom when I can, hoping to making her proud as I grow up on my own.