International
Certificate Program Launched for Pakistani Women Entrepreneurs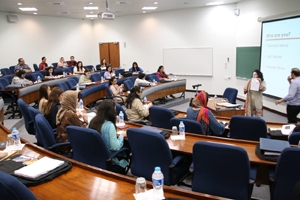 American University (AU) and the Lahore University of Management Sciences (LUMS) launched a certificate program for women entrepreneurs at the Rausing Executive Development Center (REDC) in Lahore, Pakistan on August 11.
The certificate program is part of the Pakistan Women Entrepreneurship Program (PWEP), a U.S. Department of State supported initiative of AU's School of International Service (SIS) and LUMS to build the capacity of women entrepreneurs in Pakistan to create, sustain, and scale their businesses. PWEP reflects the mission of the U.S.-Pakistan Women's Council to increase women's economic participation in Pakistan through entrepreneurship, employment, and higher education.
This twelve-day modular program, developed collaboratively by American University faculty from the School of International Service and the Kogod School of Business, and LUMS' Suleman Dawood School of Business, will provide 25 female entrepreneurs with a unique opportunity to formulate and implement strategy to successfully drive change within their businesses.
The program is organized into four modules and is designed to provide conceptual and practical perspective through local and international case studies, interactive lectures, hands-on projects, and guest speakers. In between the modules, participants will apply newfound strategies and insights at work and further develop their businesses.
Stephanie Fischer, director of experiential learning at SIS, was present for the launch and supported her LUMS faculty partner, Professor Farrah Arif, with whom she has been working for the past several months in finalizing curriculum for and implementing the entrepreneurial marketing module. Fischer's trip to Lahore marks the first in a series of in-person exchanges between AU and LUMS faculty partners on women and entrepreneurship in Pakistan and the certificate program for women entrepreneurs specifically.
Learn more about the U.S.-Pakistan Women's Council at SIS: http://www.american.edu/sis/us-pakistanwomenscouncil/
Read more about the certificate program: http://lums.edu.pk/news-details.php/programme-for-women-entrepreneurs-begins-3524
Learn more about efforts to support Pakistan's female entrepreneurs: http://www.american.edu/sis/news/20150420-american-university-launches-pakistan-women-entrepreneurship-program.cfm
Bodley-Bond is the project manager of PWEP.