International
SIS Welcomes New Faculty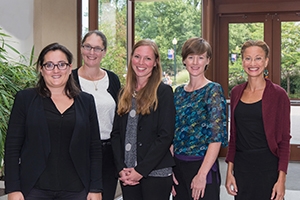 The School of International Service (SIS) at American University is pleased to announce the following new tenure-line faculty members:
Claire Brunel , Assistant Professor
Brunel's research focuses on policy-relevant issues at the intersection of international trade and environmental economics. She is particularly interested in providing empirical evidence of the links between environmental policies and international competitiveness. Her work includes a study of whether policies of the Organisation for Economic Co-operation and Development (OECD), encouraging the use and the development of renewable energies, led to an increase in domestic innovation and manufacturing, or rather to a rise in the licensing and importing of foreign technologies. Other work examines the role of the off-shoring of polluting industries in emissions reductions of manufacturing in the European Union (EU) and the United States, and how to measure the stringency of environmental policies. Previously, she worked at the Peterson Institute for International Economics, the Research Department of the World Bank, and as trade policy attaché at the Embassy of France. She obtained an M.Phil from Oxford University and a BSc from Georgetown University. Brunel completed her PhD in economics at Georgetown University.
Lauren Carruth , Assistant Professor
Carruth's ethnographic work, funded by the National Science Foundation and the Wenner-Gren Foundation for Anthropological Research, examines the lasting social effects of episodic medical and humanitarian interventions in Ethiopia. Her current project, based in the Somali Region of Ethiopia, focuses on the lives and livelihoods of the so-called "local staff" of the global humanitarian aid industry. Carruth is also part of a team of investigators based at George Washington University studying Middle Eastern Respiratory Syndrome Coronavirus (MERS-CoV) and other emerging and zoonotic (transmitted from animals to people) infectious diseases in camel and human populations. More broadly, her research includes a reconsideration of humanitarian ethics, global health diplomacy, food security, transnational kinship and migration among Somalis, and the future viability of pastoralist livelihoods in the Horn of Africa. Carruth earned an MS in nutrition and humanitarian policy from Tufts University, a Certificate of Humanitarian Studies from the Harvard School of Public Health, a PhD in anthropology from the University of Arizona, and postdoctoral training in global health and medical anthropology at Princeton University and George Washington University.
Erin Collins, Assistant Professor
Collins is an urban and cultural geographer with special interests in transnational feminist, post-colonial, and global urban theory. Broadly, her work explores the political economy and cultural politics of urban transformation in Southeast Asian cities. She has conducted archival and ethnographic research in Phnom Penh, Cambodia, and Ho Chi Minh City, Vietnam. Her current book project is a study of how urban land politics in Phnom Penh have shaped political authority through the country's post-socialist and post-conflict transitions. The National Science Foundation, the Social Science Research Council, and the University of California Pacific Rim Research Program have supported her work. Collins completed her doctorate in geography at the University of California - Berkeley with a designated emphasis in global metropolitan studies. She has forthcoming articles in the journals of Environment and Planning A and Environment and Planning D: Society and Space. Collins will start at SIS in January 2016.
Jordanna Matlon , Assistant Professor
Matlon is an urban sociologist who employs qualitative methods to explore the relationship between masculinity and work for peripheral populations in African cities. Focused on Francophone West Africa, she conducted her dissertation fieldwork in Abidjan, Côte d'Ivoire. This research is the foundation for her book manuscript (in preparation), tentatively titled 'I Will be VIP!': Masculinity, Modernity, and Crisis on the Neoliberal Periphery. Matlon's broad interests lie in questions of race and belonging, particularly as they relate to populations from Africa and the African diaspora, post-colonial theory, intersectionality theory, informal economies, popular culture, and the interactions between the social, cultural, and economic dimensions of globalization. She was formerly a postdoctoral fellow at the Institute for Advanced Study in Toulouse, France and in fall 2014 was a visiting scholar at the African Centre for Cities in Cape Town, South Africa. Matlon received her MA and PhD in sociology from the University of California - Berkeley and her BA in urban studies from Columbia University.
Jennifer Poole , Assistant Professor
Poole's research and teaching interests fall at the intersection of international trade, labor economics, and development economics. With an emphasis on Brazil, her broad research agenda considers the effects of global integration on local labor markets. In particular, her work investigates information transfer in international trade and investment and the impact of globalization on employment and wages. Her research has been published in the Journal of International Economics, the Review of Economics and Statistics, and World Development and has been funded by the National Science Foundation. She recently served as Senior International Economist at the White House's Council of Economic Advisers and has been a visiting scholar at the World Bank, Federal Reserve Bank of Philadelphia, Federal Reserve Bank of San Francisco, University of Nice, and University of Munich. Poole holds a PhD in economics from the University of California - San Diego and a BA in economics from Smith College.