International
Message from the Dean: A New Year Begins at SIS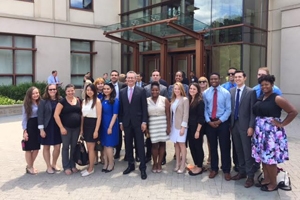 Hello and welcome! As we embark on the new school year, I am delighted to welcome new and returning students, faculty, and staff, and am excited for the year ahead! Please take a moment to visit our website, follow us on Twitter, and like us on Facebook to keep up with all of our news and events. In addition, you are welcome to follow me on Twitter, where I discuss special events at the School of International Service and comment on global developments.
The School of International Service starts the school year with more than 600 new undergraduate students, more than 400 new MA students, and 10 new PhD students from across the United States and around the world. We are very proud of our undergraduate program, which is truly the best of its kind, and our graduate programs, which continue to produce outstanding graduates year after year.
A highlight of our summer at SIS was the August 5 visit by President Barack Obama, who delivered an important address about the Iran nuclear agreement. It was the president's second visit to SIS—on his previous visit, he discussed another critical topic, immigration.
The SIS family also suffered a terrible loss this summer, with the tragic death of recent alumnus Matthew Shlonsky, SIS/BA '14. Matt was an extremely bright light in our close-knit community and our hearts remain heavy as we mourn his untimely death. SIS is in the process of finalizing plans to honor Matt and we will share details soon.
SIS students were busy over the summer with internships, jobs, and study opportunities. Our pioneering practicum program took students to Kenya, Israel, Brazil, and elsewhere, where our students learned valuable skills and had a lasting impact on local communities. Meanwhile, back at SIS, high school students from across the country assembled for an inventive program that introduced them to global issues and helped prepare them for college.
As incoming students gathered to start their on-campus classes, students in our innovative online graduate programs also convened at SIS for a special immersion program that included field visits to important Washington, DC, institutions.
Our faculty continue to pursue groundbreaking research and comment on critical issues around the world. I am thrilled to welcome 15 terrific new full-time faculty members to the school this year, and we expect to further expand our ranks with six new tenure-line faculty searches launched this fall.
Our 20,000 alumni around the world continue to inspire and amaze us. I look forward to seeing many returning members of the SIS family on campus in October at All-American Weekend, which will feature the first-ever SIS Alumni & Faculty Book Fair.
I greatly enjoy hearing from students, parents, alumni, and other members of our community and I invite you to stay in touch and stay involved.
Wishing you all a wonderful year ahead!
With best wishes,
Dean Jim Goldgeier
@JimGoldgeier