International
Initiative Bridges Policy-Academic Divide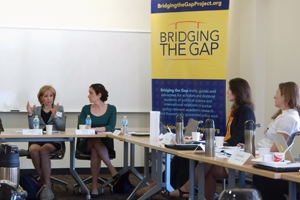 To help policymakers address growing global challenges, a team of scholars has worked for more than a decade to train, mentor and advocate for scholars to produce relevant and accessible research. Bridging the Gap (BtG), which has been housed at the School of International Service (SIS) since 2011, prepares academics to pursue theoretically grounded policy-relevant research while engaging policymakers in the work of scholars of international relations, political science, public policy, law and related fields.
BtG seeks to "bridge the gap" between the policymaking community and academic scholarship to provide policymakers, thought leaders, and journalists with analyses of global challenges and recommendations for how to address them. BtG provides professional development and networking opportunities for scholars interested in pursuing policy-relevant research and working in the policy world and advocates for the support of such research within academia.
Supported largely by the Carnegie Corporation of New York, the initiative is led at SIS by Dean James Goldgeier, a co-director of the project.
BtG recently launched a new website that enables visitors to locate experts in different fields trained in developing and articulating research for a policy audience. The website includes scholar profiles that are searchable by keywords and can be organized by expertise, as well as current media contributions from alumni and directors of BtG programs.
To date BtG has trained and mentored a network of more than 200 scholars around the world to undertake theoretically grounded policy-relevant research. BtG's annual New Era Foreign Policy (NEFP) conference convenes doctoral students from around the world to explore the most compelling challenges and opportunities U.S. policymakers will face over the next decade. The 2016 NEFP conference will be held from March 6-8.
BtG's annual International Policy Summer Institute (IPSI) hosts scholars from around the world for a week-long program, during which they meet with and learn from policymakers from U.S. government agencies, editors from major news and policy publications, and experts from public policy institutions. The participants also undergo intense media training to hone their oral and written communication skills. The 2016 IPSI conference will be held from June 5-9. Applications for both programs will open on October 1.
BtG has initiated a webinar series and to date has presented online professional development workshops on op-ed writing, bridging the gap in the classroom, and engaging with the policy community. This upcoming academic year BtG will make these webinars available to scholars outside of the BtG alumni network. Visitors can view past webinars and learn more about upcoming webinars online at the BtG website.
For additional information, visit Bridging the Gap online at bridgingthegapproject.org
Follow Bridging the Gap on Twitter @BtGProjectDC