International
SIS Students Succeed in Policy and International Affairs Fellowship Program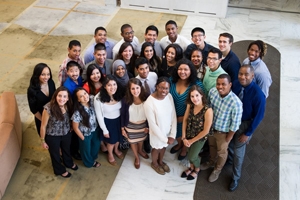 Two students in the School of International Service (SIS) served as fellows at the Public Policy and International Affairs' (PPIA) Junior Summer Institute at Princeton University this summer. The PPIA Junior Summer Institute prepares students for graduate study and careers in public policy and international affairs. Sakari Ishetiar, SIS/BA '16 and Nausheen Rajan, SIS/BA '16, reflect on their experiences in the following commentaries.
Sakari Ishetiar
When I was applying for colleges, Princeton University seemed out of reach. Even with strong grades and what I thought was a good personal narrative, the university's low acceptance rates and reputation as a selective Ivy League school didn't seem like the place to bet my money on at the time. Yet four years later, as I found myself traveling from American University to Princeton, I couldn't help but smile at the realization that no place is truly inaccessible.
This past spring, as a junior at SIS, I received a grant from the Public Policy and International Affairs (PPIA) foundation to travel to one of the selective policy schools that strive to encourage disadvantaged students to pursue graduate degrees. At Princeton, I was slated for high-intensity courses on economics, statistics, and U.S. foreign policy with senior-level current and former policymakers.
I had first heard of the PPIA fellowship from my adviser in the Office of Merit Awards, Leah Gates, while I was an intern at the State Department, hoping to network and gain experience in my intended career field—diplomacy. After six months of drafting personal statements and reviewing my résumé, I submitted the PPIA application and was soon notified that I had been selected to go to Princeton.
Gilbert Collins, director of the Woodrow Wilson School of Public and International Affairs at Princeton, sent us our first instructions via email. To my chagrin, we were asked to brush up on general math and Calculus, subjects I had left untouched since my high school days. Quickly the rigor of the fellowship became apparent, as did the prestige of having received it, as I met my faculty advisor and posed for a quick picture at the SIS awards ceremony. As the summer began, I prepared for a period of rigorous academic study.
What I encountered upon arrival at Princeton was far more than a group of intelligent award recipients and prestigious faculty. In fact, our cohort of 29 students was perhaps the most diverse small group I've worked with in my life. Every student had a story—inner-city African Americans who never expected to go to college, ambitious political science theorists, social justice warriors… and me, the mixed-race diplomat-to-be from the Midwest. Though we were split into groups that focused either on domestic or international policy, we nonetheless had many opportunities to interact.
One time, my classmates and I discussed whether our universities were diverse and had fulfilling conversations about diversity. Each of the four AU students had differing perspectives on the issue, demonstrating the importance of having this kind of conversation in order to encourage diversity and inclusion at universities. Even after days of intense study, somehow my classmates and I were never too tired for nighttime discussions on social issues including race, immigration, and gender inequality. This was not just a group of intelligent students—it was the collective of future minority leaders of the United States.
I would be remiss to not discuss the connections we made at Princeton. Leading faculty members like former ambassador to Iceland James Gadsden and guests like international lawyer George Bustin helped expand our knowledge of the world and encouraged critical discussion of policy issues.
In addition to teaching, these senior field experts became personally involved in our paths, sometimes mentoring and pushing us to exceed our own expectations. Ambassador Gadsden honored me by asking me to co-edit the final paper and panel discussion for the International Policy workshop, a request which I doubt would have occurred if not for the personal connection we were able to make. This is just one example of the strong bonds forged this summer.
Whether due to the faculty or the students, the learning and memories I made will stay with me for many years as I enter the world of international service.
Nausheen Rajan
While growing up, you are constantly faced with the question of who you are and what your purpose is in life. For me, the 'who you are' part has evolved over the years. There are definitive identity markers: female, Muslim, American, first-generation student, daughter of Pakistani immigrants, student at American University, etc. The harder part of the question for me has been to find my purpose, or in other words, what I want to do with my life. I have always known that I would like to commit myself to a life of public service, but I did not know where to start, what my role in that arena might be, and how much of an impact I could make as a public servant in the future.
The PPIA Junior Summer Institute (JSI) provided me with the opportunity to grow personally and professionally in order to answer these two key questions. I was lucky enough to have shared this experience with a community of 28 other like-minded individuals who came from diverse backgrounds and faced the same challenging questions as I did. We became like family. We were all passionate about issues in the world, which made the experience intense for us both in the classroom and outside of the classroom. For instance, we had a guest speaker, who worked at a local immigration office, come in during a policy lunch to speak to us about her work. The intended career talk instead evolved into a dialogue about national immigration issues.
The conversations that my classmates and I had were challenging and important. Whether I was discussing racial issues in the nation with friends, learning about market structures in economics class, or engaging in policy writing about gun control reform, there was not a single minute that went by when I was not intellectually engaged.
I also received the opportunity to organize and lead a community engagement while at Princeton. I coordinated an event with the Imam on campus for JSI students interested in the month of Ramadan. The Imam talked about the holy month, Eid, and about Islam as a religion. All of our cohort attended along with staff. The event allowed for students to engage with other Muslim community members. Our cohort broke fast with everyone else, were allowed to pray (do namaz) with the community, and ate dinner. It was quite lovely to see everyone embrace each other's identities and support one another from whatever background we many have come from. In this case, our cohort showed overwhelming support to the Muslim community on campus. Even though this event had never been done before at JSI, the staff and faculty were supportive of the initiative.
It is because of PPIA JSI that I feel prepared and confident about my future and the choices that lie ahead of me. PPIA JSI prepared me for what is to come not only in graduate school, but also what is to come for the rest of my life as a public servant through its professional career workshops. I know that I want to impact policies that affect youth and women in the world because to ensure long-term stability, which is something I learned by drafting a policy proposal about the United States and European Union cooperation in the Middle East Region. Thanks to PPIA JSI, I now know exactly how and where to start.
Most importantly, PPIA JSI allowed me to share my experience with an invaluable community of peers, faculty, and staff. My statistics professor taught me how to effectively write policy memos using statistics and has also become a lifelong mentor to me.
PPIA JSI may have been stressful at times, especially when we had to give our policy presentations at the end to our professor, Ambassador James Gadsen, and to a panel of U.S. Department of State officials, but it was all worth it (and could not have been done without the help of coffee shops on Nassau Street and regular karaoke nights with friends).
I am determined to make an impact on the world, and because of the skills learned at PPIA JSI, I know that I can.
Learn more about the PPIA Junior Summer Institute program: http://wws.princeton.edu/admissions/ppia-junior-summer-institute