International
Student Reflects on Alumni-Student Mentoring Program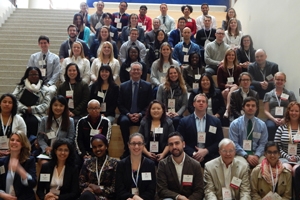 The SIS Alumni-Student Mentoring Program at the School of International Service (SIS) offers an opportunity for students to gain a head start on building their careers. The program matches students with alumni mentors for a year, considering each student's career goals and educational interests. Students met their alumni mentors for 2015 during All-American Weekend at the SIS Student-Alumni Mentor Program VIP Meet and Greet. Karen Ives, SIS/MA '17, a student in the program, reflects on her experience and excitement about the mentorship.
During All-American Weekend, SIS students and alumni gathered for the SIS Student-Alumni Mentoring Program VIP Meet and Greet luncheon in the Abramson Family Founders Room. In the back of the room, a chili bar catered to both vegetarians and meat-lovers. In the front, apples and dipping sauces made for a festive treat. Photos of alumni flashed by on the projector screen, accompanied by their impressive titles. The attendees stood comfortably around tables to chat and greet one another, bound by a common connection: the School of International Service.
We'd come here to learn with whom we would be matched for the mentorship program. I still remember filling out the application, updating my resume, and reading through the collection of possible mentors. I still remembered my first choice. I wasn't the only one, and reviewing my first choice mentor in my mind heightened by anticipation.
The matches came colorfully bound in scrolls marked with the name of a student in the program—and inside each scroll was the name and description of a mentor. These scrolls were the announcement of our matched, and they came in waves. When the first wave came, I looked for my name. Not there. The next wave. Still no scroll for me. But in the last wave it came. I opened it and read the description in an excited rush. I got my first choice.
My mentor is Patrick Arnold, SIS/BA '05, SIS/MA '06, who is the Senior Asia Programs Director at Volunteers in Asia (VIA). Arnold resides in San Francisco.
I have not been at SIS for long, but I have already noticed how important community is here. Whether you are just starting the program like me or graduated ten years ago, the sense of community remains. We are connected not just by the school, but the values that SIS represents—including the value of service that guides alumni to act as mentors to those graduates hoping to find a place in the dynamic field of international affairs. I look forward to the ways my mentor will guide me toward mine.
Learn more about the SIS Student-Alumni Mentoring program here.
Ives is the Program Coordinator for the Intercultural and International Communication master's program.