International
Spotlight on the BA in International Studies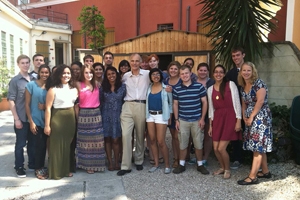 The Bachelor of Arts degree in International Studies is offered to undergraduate students at the School of International Service (SIS). With an emphasis on rigor and reflection, this program aims to enable students to develop a critical capacity to understand international affairs broadly, while allowing students to tailor their academic experience to substantive areas of particular interest to the student. Ranging from the global to the local, the undergraduate program seeks to look at the world's issues in a wide and close up scale, from a broad range of engaged perspectives.
We asked Assistant Professor Rosemary Shinko, the director of the undergraduate program, to tell us more.
What is the mission/vision of the undergraduate program?
Our undergraduate degree is a Bachelor of Arts in International Studies, which is a liberal arts degree. Our program is firmly rooted in the liberal arts and sciences, interdisciplinary to the core, and aimed at helping students become better intellectually equipped to think critically and clearly about the most pressing global challenges that we face. Our program offers students an opportunity to find their truest vocations, to discover their passions and to become who they are: citizens of a planet characterized by overlapping worlds composed of a myriad of complex relations that defy simple or simplistic summaries. Our primary job as educators of undergraduates is to help inculcate in our students the critical intellectual dispositions and expanded moral imaginations that will help them, to put it bluntly, shape the global future. The greatest service we can do for our undergraduate students is to provide them the occasion to develop their ability to think critically, creatively, and independently about important global issues, all the while confronting what Max Weber called the "uncomfortable facts" that raise difficulties for partisan, naively utopian, or otherwise unsustainably narrow points of view.
How is the program unique?
Our guiding principle is: "Before we seek to change the world, we work to understand it" and it is the ways in which we attempt to put this into practice that makes SIS unique. Our undergraduate program offers each student a mix of required foundational courses coupled with the opportunity to choose thematic areas of study, upper level courses and engage in research projects reflective of their interests and intellectual passions. The highlights of our program include our first year foundational courses: World Politics, First Year Seminars and Cross-Cultural Communications; our support for undergraduate research that incorporates focused research methods and methodology courses; our eight thematic areas that offer a mix of introductory gateway courses and more focused substantive upper level courses and finally, our senior capstone courses that offer students an opportunity to integrate and apply what they have learned at SIS by creating a summative project of their choosing.
What are some things your program does to further your students professionally?
Our academic program focuses on teaching methods for conducting research, developing and enhancing writing, and refining oral and visual presentations, all of which are essential capacities for pursuing various opportunities after graduation. We stress the development of students' habits of thought that focus on understanding theories and learning about significant debates surrounding a topic, data collection and data management, analysis and synthesis of information. In short, we stress critical engagement through reading, research, writing and discussion and dialogue.
SIS students are also exposed to career development starting with orientation and have access to all of our resources, including help with creating an effective resume and interview prep. We offer career support from their first day as SIS students and continue to assist them as alumni. Career counseling is offered on a one-on-one basis, as well as by phone, Skype, or email. We host Job and Internship Fairs each semester and each spring there is a SIS Career Week with employment focused events and programs. SIS students also have access to Employer workshops, events, along with on campus recruitment through the AU Career Center. SIS students can review profiles on CareerWeb, giving them access to thousands of jobs and internships.
What opportunities do students have to develop regional and language expertise?
Students at SIS are required to study a foreign language in addition to choosing a regional area of focus as part of their international studies major. Students can apply for scholarships, such as the Boren Scholarship, which funds students in the study of world regions and languages critical to national interests and the Critical Language Scholarship, sponsored by the U.S. Department of State. For 2015, six SIS students received undergraduate Boren Scholarships and six SIS students received Critical Language Scholarships.
Can you tell us about the study abroad programs at SIS?
Study abroad programs afford SIS students an opportunity to draw together their regional foci, their foreign languages and/or their thematic areas to create academically rich and focused programs of study. Approximately 85 percent of SIS students choose to study abroad, and they can select from 137 programs/partners across six continents. SIS advisors, study abroad advisors, and faculty all help students to identify their interests and select study abroad programs that will provide them with the most enriching intellectual experiences.
How does the undergraduate program engage its alumni?
Some of our activities include an SIS Student-Alumni Mentor Program, our annual SIS Student-Alumni Networking Reception, opportunities to have dinner with Alumni, and our Alumni in the Atrium series. Our alumni/student mentor program pairs more than 50 students with recent alumni each year and our Alumni in the Atrium is a career/alumni program that brings SIS alumni back to speak informally to students during the week.
Additionally SIS sponsored Industry Days are employer events where recent alumni can sign up for site visits to employers such as the U.S. Department of State, the U.S. Department of Energy, the World Bank, Chemonics International, National Counterterrorism Center, and the European Union. We host an annual recognition event for SIS Alumni of the Year and a SIS Alumni Student Networking Reception each spring.
Alumni are invited back for All-American Weekend, Dean's Discussions, happy hours, Alumni Night with the Washington Nationals and more.
SIS undergraduates are provided with unlimited access for career services such as Job and Internship Fairs, career counseling, and SIS Alumni LinkedIn network.
What is a typical undergraduate student like?
There is no typical student; the strength of our liberal arts curriculum is that it allows students room for exploration while at the same time providing a structure for gaining both content knowledge on international affairs issues (challenging preconceived notions along the way), as well as the capacity and mindset for critical inquiry and life-long learning that are the keys for success across all endeavors.
However, there are certain characteristics that our program seeks to foster and develop which include curiosity about international affairs, engagement with challenging international problems and questions, and a commitment to service.
Learn more about the Bachelor of Arts degree in International Studies: http://www.american.edu/sis/degrees/BA-INST.cfm