International
Model UN at SIS Gains Accolades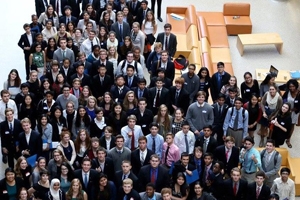 This fall has been a busy one for American University's (AU) Model United Nations team, but none of its members seem to be complaining. On the contrary, this group of undergraduates from across the campus has been having a great time competing at some of the nation's top universities.
The American University International Relations Society (AMIRS) is a student-run organization that, with the support of the School of International Service (SIS), organizes AU's Model UN team.
I am the Model UN faculty advisor and team coach. The thing that I like most about Model UN is what sets it apart from debate. In debate, in order to be the best, you have to make the best argument. In Model UN, the best delegates have to do much more: they have to listen, empathize, strategize, and find ways to work with others to solve problems. In that sense, Model UN is a perfect fit with the SIS mission.
Indeed, some of the best delegates at two of the nation's top MUN conferences were from AU. In October, the AU team participated at Georgetown's National Collegiate Security Conference. Oksana Ryjouk, SIS/BA '18, Maryeliz Kelleher, SIS/BA '17, Charles Outlaw, SIS/BA '17, Hemza Hajyousif, SIS/BA '18, and Ben Shaver, SIS/BA '18, all won awards in their committees.
More recently, the team attended one of the largest collegiate conferences at the University of Pennsylvania, where it represented Iran. Once again, the AU team brought back an impressive number of awards:
• Head delegate Caroline Rose, SIS/BA '18, and Alex Davis, SIS/BA '18, were recognized in the UN Disarmament and Security Committee.
• Jeremy Landin, SIS/BA '16, and Julia Clark, SIS/BA '19, were similarly acknowledged in the UN Social and Humanitarian Committee.
• Vyette Tiya, SIS/BA '19, grabbed a top honor in the UN Committee on the Status of Women.
• Shaver and Ryjouk took home awards for their efforts in a simulation of the crisis in Syria.
In all, more than half of the students on this fall's team have been recognized for excellence.
"I'm proud of what we've done this fall and I'm excited for what we can do together next spring. Most importantly, we're having a great time doing it and we're getting our name out there," says Rose.
Rose and her teammates will head to Montreal next, where they will engage some of the best MUN programs in North America at a late January conference at McGill University. Rounding out the spring semester will be trips to the US Military Academy for the West Point Model UN Invitational and to NYU for its annual NYUMUNC.
Model UN at AU doesn't stop there, however. AMIRS also hosts two annual high school conferences at SIS.
According to AMIRS CEO Katie Szabo, "our goal is to encourage young people to become more involved in global affairs. We do this by organizing conferences that are intimate, yet draw on the strengths of being at SIS and in our nation's capital."
Last month, AMIRS held AmeriMUNC, a one-day capacity building conference for new and emerging Model UN programs in the greater Washington area. Next April, AMIRS will convene the third annual Washington International Relations Conference (WIRC), a nationally recognized Model UN conference attended by schools from across the United States and abroad.
WIRC Secretary-General Bailey Roe, SIS/BA '17, is responsible for organizing the conferences and for managing a staff of over forty student volunteers from all of AU's schools.
"These conferences are a huge undertaking, but they're also a way for globally-aware people to get together and support one another," says Roe. "The work is worth it. Model UN is one way for us to build the skills we'll need to be the next generation of global leaders."
Beyond Model UN, AMIRS holds weekly discussions on global topics. It also sponsors the AU chapter of the United Nations Association of the United States of America (UNA-USA.) Needless to say, the students behind Model UN are as busy as ever and they're making a positive impact.
For more information about AMIRS and the AU Model UN team, visit their website and follow them on Twitter at @SIS_AMIRS.
Mislan is an assistant professor at SIS.