International
SIS scholar works to protect climate and human rights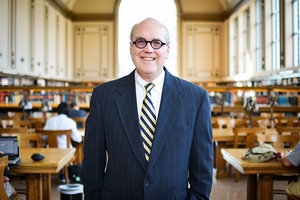 In historic international efforts to safeguard the planet, one School of International Service (SIS) scholar believes protecting human rights is unequivocally essential. Wil Burns, an international environmental law expert and co-director of the SIS Forum for Climate Engineering Assessment, advocates that a human rights-based approach to climate geoengineering will minimize its impacts on the world's most vulnerable peoples.
Authoring the October 2016 report, "The Paris Agreement and Climate Geoengineering Governance: The Need for a Human Rights-Based Component," Burns lays out an inclusive human rights mechanism to help "flesh out more broadly the contours of the new human rights language in the Paris Agreement."
In December 2015, the Paris climate conference (COP21) convened 195 countries to adopt the first-ever comprehensive global climate deal, the historic Paris Agreement. Its threshold for ratification was met in October 2016, and currently, 115 of 197 Parties have ratified the agreement.
Burns, who has worked on climate geoengineering for more than a decade, believes that some geoengineering approaches could negatively affect developing nations. Take stratospheric aerosol injection, or SAI geoengineering, for example. Deployed to abate increases in surface temperatures, it has the long-term potential to suppress precipitation and negatively impact agriculture, health, and water needs in South Asia and Africa.
Another climate change response, ocean iron fertilization—a process intended to enhance biological productivity in the world's oceans—also threatens the integrity of ocean ecosystems and the human economies which depend on ocean resources.
After the Paris Agreement was signed, Burns says, "I became interested in how to minimize the effects [of these actions] on populations and ensure that those populations have a voice in any decision making that occurs. That was the genesis. I think a human rights approach creates a framework for potential considerations for the most vulnerable."
The framework patterns itself off of other human rights-based approaches, such as in health or development. Conceptually, it takes into account potential actors and those who could be negatively impacted, then assesses potential impacts, reduces them, and creates a monitoring system guided by human rights standards and principles.
Most crucially, the framework envisions broad collaboration between human rights bodies across all stakeholders. UN decision-making bodies, civil society organizations, and nation states all have an equal stake in securing human rights.
Still, the road ahead for implementation is uncertain. For one, introductory language of the Paris Agreement—to which Burns's suggested human rights framework could be added—is not legally binding. There is also progress to be made in ensuring human rights, as regular reports of abuses and violations across the globe are a sobering reminder.
Burns, however, remains steadfastly optimistic. He recognizes the importance of setting norms through more comprehensive and inclusive language. And, while not primarily considering himself an advocate— "I consider myself first and foremost an academic"—he believes his research ripples positive change: "It is in my DNA a bit. And it's important for those that work in this field to think creatively. Sometimes the mechanisms to protect interests are not immediately obvious, and it's important to think about all the levers of power that come to bear down on any given issue."