International
Professor's Book Examines the Role of Secretariats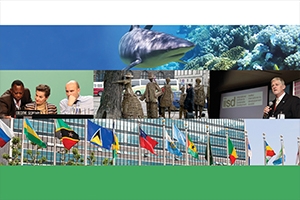 Assistant Professor Sikina Jinnah's new book, Post-Treaty Politics: Secretariat Influence in Global Environmental Governance, examines the role of international bureaucracies in managing the politics of overlapping international regimes in the areas of biodiversity, climate change, and international trade.
Jinnah's research focuses on the changing dynamics of power and influence in global environmental politics. Her most recent work focuses on how key norms in global climate change politics shape power relations in global governance, and the intersection of international trade and environmental policy making. Jinnah was also formerly a consultant for the International Institute for Sustainable Development (IISD), where she reported on CITES and UNFCCC processes for IISD's Earth Negotiations Bulletin.
Post-Treaty Politics argues that secretariats—the administrative arms of international treaties—matter in world politics. The book posits that by drawing on their unique networks and knowledge, secretariats emerge not simply as state functionaries or appendages, but as actors in their own right. The book shows that in the messy world of overlapping treaty regimes, secretariats are generally well-positioned, skilled, and willing to work through the challenges of "overlap management."
The book argues that secretariats change power relations between states by (re)defining governance architectures and institutions, altering relationships by redistributing capabilities, and shaping shared norms and ideas.
"A secretariat is the brick-and-mortar hub of most international organizations and treaty regimes. We generally think of secretariats as something akin to administrative assistants, carrying out the instructions of state actors. This book illuminates how secretariats actually do this, but the picture is much more complicated. In short, secretariats carry out the typical administrative functions that we associate with these actors, but they also engage in activities that shape global governance in substantive ways as well," Jinnah explains.
Post-Treaty Politics suggests a framework for evaluating these differences by identifying types of governance changes that can result from secretariat influence and suggesting which types of change reflect strong, moderate, or weak influence. It builds the case that overlap management is an area that is particularly ripe for bureaucratic influence, and argues that in influencing overlap management politics secretariats can shape power relations between states.
"The book examines secretariats that work on biodiversity and trade. I am less interested in how well these secretariats are managing their goals broadly defined, and more interested in how they are shaping one discrete goal in particular: management of overlapping rules and norms between treaties," Jinnah says.
Two of Jinnah's cases examine the Convention on Biological Diversity (CBD) as the hub of global biodiversity governance. The first of these shows how the CBD Secretariat influences overlap management among several biodiversity treaties by designing rules and institutions. The second CBD case shows how the CBD secretariat shapes the way states understand, and accordingly govern, overlap between biodiversity and climate change.
The book also looks at the World Trade Organization (WTO), illuminating how the WTO secretariat influences trade-environment overlap in ways that both enhance developing country capacity and simultaneously entrench existing power structures.