International
Ambassador Visits SIS to Discuss Sanctions Policy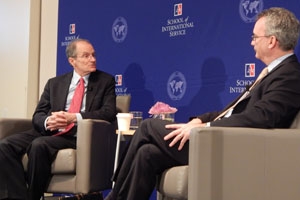 "Sanctions hurt. If the sanctions are designed correctly, they will hurt the person and government you are trying to hurt," declared Ambassador Daniel Fried, Coordinator for Sanctions Policy at the U.S. Department of State, during his discussion with Dean James Goldgeier on January 14 at SIS, an event covered by C-SPAN.
"But there will be pain on some of your companies as well," Fried warned. "There will be complications. And if you can't face that, then you shouldn't start sanctioning in the first place. In government, we're always looking for that option that is all gain and no pain. It doesn't exist."
Ambassador Fried assumed his position as the U.S. Department of State's Coordinator for Sanctions Policy in January 2013. His distinguished career in the Foreign Service has included service as U.S. Ambassador to Poland, Special Assistant to the President and Senior Director for European and Eurasian Affairs at the National Security Council, Assistant Secretary of State for European and Eurasian Affairs, and Special Envoy for Closure of the Guantanamo Detainee Facility.
Dean Goldgeier began the discussion by asking Ambassador Fried about a shifting emphasis away from military force to the use of sanctions as a coercive instrument in U.S. foreign policy.
"Sanctions have been developed by the U.S. policy community as a way to address this issue: How can we apply diplomatic pressure short of military force?" agreed Fried. "Sophistication about the use of sanctions has grown enormously, much smarter than was the case twenty years ago. I guess it's possible to admit now that our sanctions against Cuba were dumb sanctions – because they were unilateral, supported by basically nobody else, and therefore, far less effective."
Instead, Fried advocated for a multilateral approach. By working with other countries to enforce sanctions, as the United States is doing with the sanctions on Russia, he believes the sanctions will ultimately achieve their diplomatic goals.
"On the Russia sanctions program I have been working on, we did indeed go multilateral from the beginning. We made a conscious decision from the outset to work with the G7 and the EU in particular in designing sanctions. We had never done this before, not to this extent. This was a program designed with Europe, and not a 'Made in Washington' formula that was forced down Europe's throat. It has been much more effective because it is multilateral."
Throughout the discussion, Fried also stressed that sanctions must serve diplomacy.
"The purpose of sanctions is to change behavior, not to punish," Fried said. "The behavior you want to change has to be achievable. You can't ask sanctions to deliver the other guy's surrender and running up the white flag. Sanctions are no better than the policy they are attempting to support and they must be coupled with diplomacy. Which means also you have to know when to take the sanctions off."
Two days after the discussion, the international sanctions against Iran were lifted after confirmation that it had cooperated with the nuclear agreement forged last summer. Although those in favor of the deal view the sanctions as a success, Fried acknowledged that the United States will still face challenges ahead in the implementation of the agreement.
"The United States is prepared to do everything we need to do under the Joint Comprehensive Plan of Action. We'll do everything we need to do and we'll do it when we need to do it," he said. "We were very careful to make commitments we could keep. With Iran, sanctions have brought us to the point where we could have successful negotiations. Let's hope that we can succeed, but we have come a long way."
With Russia, Fried says there is the possibility of a diplomatic solution to end Russia's aggression against eastern Ukraine. He believes that Russia is beginning to take the sanctions more seriously.
"The combination of our sanctions and the oil prices changes the strategic context in which the Russian government has to make decisions. And if that induces the Russian government to negotiate a diplomatic solution, we're for it. I look forward to the day when we can start removing the sanctions. It means they've served their purpose," said Fried.
That purpose being to ultimately, no longer need the sanctions at all.
"The purpose of sanctions is not to exist for their own sake," he continued. "The purpose of sanctions is to create conditions under which we can take them off."
Watch the video of the discussion.
Learn more about upcoming events at SIS.