International
Professor, Alumna, wins award for scholarship of teaching and learning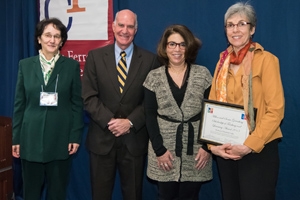 Assistant Professor Elizabeth Cohn, SIS/PhD '95, of the School of International Service (SIS) received the Milton and Sonia Greenberg Scholarship of Teaching and Learning Award this past December. Cohn is affiliated with the U.S. Foreign Policy and Latin American studies programs and is also an alumna of SIS.
"I am very delighted to receive this award that recognizes my contribution to the university on teaching and student learning," Cohn said. "I spend much of my time thinking about how to improve student learning and I love sharing strategies with my colleagues—for example, through creation of new resources and leading faculty workshops. My passion is teaching."
The award, founded by former Provost Milton Greenberg and his wife, Sonia, was made to recognize faculty who have gone above and beyond in contributing to collegiate teaching practices or curricular design. The recipients receive the award and a stipend at the Center for Teaching and Learning's (CTRL) annual Ann Ferren Conference, where faculty and staff are invited to collaborate and share new teaching methods for their students.
As the current Faculty Coordinator for Teaching and Student Learning at SIS, Cohn has displayed her interest in teaching pedagogies and has been active in the CTRL community at American University (AU).
"My research and writing about teaching is inspired by my experience in the classroom, the challenges I hear from my colleagues, and what I read in the literature. For example, there's been an on-going dialogue about lecturing vs. active learning. I don't see these as always in conflict or mutually exclusive, so I wrote a piece I call 'Ten Active Learning Exercises to Complement a Lecture,'" says Cohn. This experience has led her to develop different resources on pedagogical techniques that have been used by faculty throughout the university.
An example of one of her exercises is called P2R or "Pause2Reflect," where students are allowed to take time to process the copious amounts of information that can be presented during a class discussion. "I developed this idea because when students are mastering a new subject or a lot of information, it can be hard to sort out key ideas, so pausing to reflect allows students to identify key points or make connections to old information," Cohn says.
Marilyn Goldhammer, the Associate Director of CTRL, applauded Cohn for her innovative teaching methodologies and ongoing involvement in CTRL. According to Goldhammer, Cohn is an active supporter of the Ann Ferren Conference, as well as other CTRL programs including the August workshop series, Noontime Conversations and the Greenberg Seminars in Effective Teaching. In 2015, Cohn led 13 teaching workshops at AU and area schools.
Learn more about Elizabeth Cohn: http://www.american.edu/sis/faculty/ecohn.cfm
Stay connected: http://www.american.edu/sis/alumni/