International
Ambassador Thomas Pickering to discuss the future of the United Nations on April 13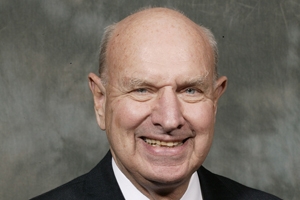 Ambassador Thomas Pickering will return to the School of International Service (SIS) on Wednesday, April 13, to discuss "Envisioning the Future of the United Nations." This is the final event in a three-part series of foreign policy conversations featuring the ambassador, which touch on global hot spots from Russia to the Middle East – and the future of the United Nations. 
The ambassador's talk takes place at a critical moment in UN history, according to Professor Michael Schroeder, director of the Global Governance, Politics, and Security Master's program and UN expert.
"The UN is tackling some of the world's toughest security crises, even as it prepares to select a new Secretary-General, implement the recently adopted Sustainable Development Goals, and manage the world's largest refugee and humanitarian crisis in decades," Schroeder explained. "As the US Permanent Representative to the UN, the Ambassador was a key player in shaping the UN's role after the Cold War, so it will be fascinating to get his insights on where the organization could be heading."
When Ambassador Pickering last visited SIS on March 25, he discussed the critical challenges facing the United States' foreign policy in the Middle East. Pickering examined ways to manage relations with an increasingly assertive Russia amid economic and political strife during his first visit of the series on March 1.
Pickering holds the personal rank of Career Ambassador, the highest in the United States Foreign Service. In a diplomatic career spanning five decades, Pickering was U.S. ambassador to the Russian Federation, India, Israel, El Salvador, Nigeria, and the Hashemite Kingdom of Jordan. From 1989 to 1992, he was Ambassador and Representative to the United Nations in New York.
The event will be held 3-4 p.m., April 13, in the Abramson Family Founders Room at SIS.
Read about Ambassador Pickering's previous discussions at SIS: "Confronting Challenges Across a Turbulent Middle East" and "Managing Relations with an Increasingly Assertive Russia."
Learn more about upcoming events at SIS.