International
Student co-presents research with faculty at international studies conference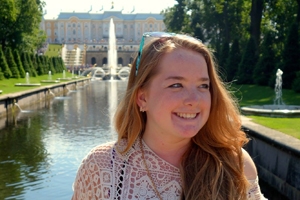 Last fall, Kellianne McClain, an SIS BA/MA student, co-presented a research paper with Professorial Lecturer Dylan Craig at the International Studies Association's ISSS-ISAC Joint Annual Conference 2015 about post-1990 Russian interventionism in Georgia, Moldova, and Ukraine. McClain tells us more about her research interests, experience presenting at a faculty conference, and future goals:
I am fascinated by the intricacies of Russian politics. After studying abroad in Moscow and St. Petersburg through the Carmel Institute of Russian Culture and History the summer following my freshman year, I decided to research the ethnic basis of bilateral relations with Russia in Professor David Ohls' research methods class. During the course, I developed a game theoretical model to examine how the geopolitical orientations of Georgia, Estonia, and Belarus influenced their political and economic stability over the past 20 years. I presented my research for this course at the SIS Undergraduate Research Poster Spring 2015 Conference. Over the same period, I also interned with the Hudson Institute, and then worked for the Foundation for the Defense of Democracies. Both experiences further piqued my interest in Russia.
In October 2015, I took my focus on Russia in a new direction by collaborating with Professor Dylan Craig on a paper entitled "Russian Forward Policy after 1990: Pay No Attention to the Curtain Behind that Man?" In this paper, we emphasized the benefits of taking an explicitly strategic perspective on Russian intervention along its borders rather than a simple geopolitical one. To accomplish this, we juxtaposed the poor model-data fit of eight existing geopolitically-focused theories--such as "pipeline wars" or "a new USSR"--with the more tailored fit produced by a strategic signaling model. We presented our paper at the annual meeting of the International Studies Association's International Security Studies Section (ISSS) in Springfield, Mass., in a panel chaired by Professor Peter Richardson of Northeastern University and discussed by Professor Joshua Rovner of Southern Methodist University.
Although I was the only undergraduate student presenting at the conference, I found the atmosphere surprisingly accessible. Whether engaging in "shop talk" at the buffet table or participating in the open Q&A after the keynote address – delivered by Colin Kahl, Deputy Assistant to the President and National Security Adviser to the Vice President – it was clear to me that the same techniques for methodical inquiry and passion for understanding international affairs taught in the SIS classroom exist at the professional and professorial level as well.
Presently, I am again studying abroad in Russia, this time at St. Petersburg State's Faculty of the Liberal Arts and Sciences--also known as Smolny College. I intend to use my time abroad to further develop certain aspects of the ISSS paper so that I can submit them for solo publication in late 2016.
Learn more about student research at SIS: http://www.american.edu/sis/undergrad/research/index.cfm