International
Alumnus advocates for digital identity in TEDx talk at AU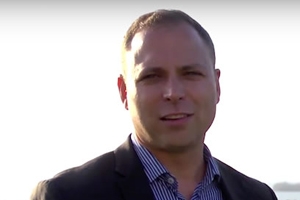 Stan Stalnaker, SIS/BA '96, gave a TEDx talk at American University on February 27 about digital identity. Stalnaker is the Founding Director of Hub Culture, the Ven digital currency and HubID digital identity system, and helps lead the American University Alumni Association chapter in London. Stan told us more about his TEDx talk, his thoughts on Apple vs. FBI, and why he is giving back to AU:
Tell us a little about yourself. Why did you found Hub Culture and what is the mission of your organization?
Hub Culture is a global collaboration network and one of the first online social networks to be developed. We operate around three functions: pavilions (places to collaborate), knowledge brokerage (consulting and deal services), and Ven, a global digital and environmentally-conscious currency. We work to enhance digital identity, currency and knowledge technologies that hopefully give us a glimpse of an evolving future relationship between citizen, state and institution.
What is a "digital identity"? Why do you feel it is an important issue to address?
A core aspect is the idea of having a digital social contract. In 1762, French philosopher Jean Jacques-Rousseau wrote The Social Contract, which questioned the idea that monarchs should have total sovereignty over the people, proposing instead the idea of citizens, who equally hold a mix of rights and responsibilities. A similar concept should exist online, but we currently don't have a sense of a digital social contract for the web. Anytime a Facebook user posts anything on its website, the content automatically becomes the property of Facebook. If people do not own their own data, they effectively don't own their online identities. This becomes critically important when we consider issues like the current refugee crisis. 58.5 million people worldwide are displaced. Of those 58.5 million, about 20 million are new refugees and 30 million are children. The vast majority of these people simply don't have access to traditional forms of identification. If they don't have passports or social security cards, they don't have identities in the eyes of the law, which means they can't access services like banking and health care. It's crucial that we should find ways for people to build self-sovereignty online, to be able to create and protect their data and identities.
Digital security has been at the forefront of the news lately. We've been hearing about the battle between Apple and the FBI over whether Apple should be required to unlock an iPhone used by one of the shooters in the San Bernardino, California terrorism attack. Do you care to comment on this?
This is largely an issue of data security and privacy. Last year, there were approximately one billion data records that were compromised due to hackers. Part of the issue with Apple vs. FBI is that the government's request would set a bad precedent not only for American citizens, but people around the world. For instance, if Apple built a "back door" code to the iPhone's system and hackers cracked it or a foreign government demanded access, we could be putting the lives of dissident people worldwide in extreme danger. We need to hold dear the freedom to protect our identities and to prevent the abuse of our data and information. The higher principles we ascribe to human rights as Americans should not be compromised by fear itself.
Why do you feel it is important to give back to AU and SIS?
I really enjoyed my time at SIS. Since I'm from Arizona originally, I probably would have ended up going to school out west had I not received a big scholarship to come to AU. Moving out to Washington, DC was definitely the farthest east I had ever lived, and I loved my college experience. Aside from the great education, it was so important to be able to build a strong social fabric here. My college friends and I keep in touch and have helped each other with our careers. AU is a fantastic place to build connections to the world.
Catch up on Stan's TEDx talk here.
Become an alumni volunteer.
Stay connected on SIS alumni news and events.