International
Students decode cyber security issues during competition at SIS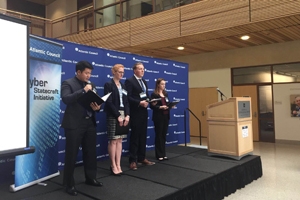 For the fourth consecutive year, the School of International Service (SIS) hosted the annual Cyber 9/12 Student Challenge in partnership with The Atlantic Council in March. Forty student teams from 25 universities from across the United States competed in the event, a record that has nearly doubled the size of the event from 2015.
The purpose of this competition is to bring cyber policy and security issues into the mainstream of international affairs education by offering opportunities to educate the next generation of leaders in the field in a realistic policy scenario. Each team is required to submit a combination of written policy briefs and oral presentations, responding to an international political crisis that has a significant cyber dimension.
This year's scenario involved a serious data breach of information from Air Force Space Command of data on the operation of the Global Positioning System (GPS) satellites. Further information implicated other countries and non-state actors in an escalating crisis in South Asia.
Three AU teams participated in the event, including two from SIS and Washington College of Law (WCL):
• AU Cybernauts:
Laura Blackerby: United States Foreign Policy (USFP) M.A. program
Maria Eckrich: Global Governance, Politics, and Security (GGPS) M.A. program
Charles Lee: WCL
Kyle Verhoeve: GGPS
• AU CyberEagles:
H.J. Bremer: WCL
Lauren Clemens: GGPS
Zach Fedor: GGPS
Rebecca Weber: Comparative and Regional Studies (CRS) M.A. program
The AU Cybernauts qualified for the semi-finals (the top 15 teams) and placed fourth in the overall competition. The eight judges for the final round, where the AU Cybernauts competed in the final four, included a former Air Force Chief of Staff, an Assistant Attorney General, a senior official from the Department of Homeland Security, and David Sanger of The New York Times. After every student presentation, the judges gave constructive feedback to each team on their content and delivery.
Cyber 9/12 is not only about the competition, but also about providing students with a rich educational experience. There were a number of discussion panels, including an address by an Assistant Secretary General of the North Atlantic Treaty Organizaion (NATO), a hacking demonstration, and a reception at Baker & McKenzie with Chris Painter, the U.S. Department of State's Cyber Coordinator. There was also a career counseling session with a number of professional recruiters and held a resume writing workshop.
AU has fielded teams in Cyber 9/12 since the first year of the competition in 2013, and has either won awards or qualified for the semi-finals every year.
Dr. Novtony is the Hurst Adjunct Professorial Lecturer at SIS.
AU students interested in learning about future Cyber 9/12 competitions may contact Professor Eric Novotny at novotny@american.edu