International
Dutch Prime Minister discusses terrorism, trade, and NATO with SIS students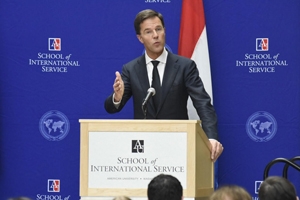 Against the backdrop of the 50+ nation Nuclear Security Summit, Mark Rutte, Prime Minister of the Netherlands, visited the School of International Service (SIS) to speak with students on March 31. More than 300 people crowded into the SIS Atrium to hear a discussion moderated by SIS professor and Europe expert Michelle Egan. Much like the successful visit by Canadian Prime Minister Justin Trudeau earlier in March, Rutte's visit sparked excitement among the AU community and reinforced that SIS is the place world leaders come when they want to speak directly to the next generation of service-minded global leaders in Washington, D.C. Watch the video here.
Europe: moving to address multiple challenges
Mr. Rutte took the stage shortly after 2 p.m., following opening remarks from Washington College of Law Dean Claudio Grossman and an introduction by Professor Egan.
He began on a somber note, referencing recent terror attacks in Brussels, Lahore, and Istanbul and saying, "I believe it is our duty to jointly fight extremism and keep on working on a safer and more prosperous world for all citizens…it is in this spirit and in memory of all the victims of terror that I want to discuss with you the state of relations between the United States and Europe."
He then referred to a recent headline from The Washington Post that proclaimed, "Europe Falls Apart." Mr. Rutte rebutted: "The good news is: this isn't a reality. But unfortunately, it is the perception. The war in Syria and the migration crisis it generated; our continuing battle against violent extremism and terrorism; and the precarious situation in Ukraine: these are crises with a global impact."
Rutte then explained European progress: "Europe is taking action. I've been closely involved, for example, in the migration deal with Turkey, one of the EU's biggest neighbors and a close NATO ally. This process might look messy from here, but Europe has always solved problems like these step by step."
He went on to assert the continued relevance and livability of Europe: "For years, European countries have consistently topped the world rankings for wealth and well-being, business climate, and health care. Europe is now a market of 500 million consumers with big purchasing power."
Trade matters, but so do shared values
Mr. Rutte then pivoted to trade and the pending Transatlantic Trade and Investment Partnership (TTIP) negotiations, stating that the EU's core task is deepening the European single market: "We can bolster our market by linking it to North America and its vast market of nearly 500 million American, Canadian, and Mexican consumers. The United States currently is the biggest single investor in The Netherlands. And my small country – we are almost twice the size of New Jersey with a population smaller than Florida's – we are the third biggest investor in the United States. TTIP will bolster our position vis-à-vis China and other emerging markets in Asia, because we are setting the standards for world trade ourselves. It will reinforce our collective position in a world where the economic, social, and geopolitical landscape is changing at warp seed."
However, Mr. Rutte then returned to a focus on shared values: "Europe and the U.S. are both built on the bedrock principles of democracy, freedom, the rule of law, and the free market. These values have united our continents for centuries."
And, speaking directly to SIS students, he said, "You will be the next generation to put these values into practice."
NATO and Russia
Moving to security, Mr. Rutte acknowledged of NATO: "The U.S. is still paying more than its fair share of the bill." But stressing cooperation on security issues, he said of sanctions on Russia, "By imposing sanctions, we are drawing a line in the sand. But it is also essential to keep communicating with Russia. Without dialogue, there can be no progress. So sanctions need to be accompanied by outstretched hands, so that we can work together to end the violence in Syria and alleviate tensions in Ukraine."
"Amsterdam is not Washington"
He closed with a firm emphasis on what unites the EU and the U.S.: "Amsterdam is not Washington. We are not the United States of Europe. The U.S. and the EU view things differently and don't always move at the same speed, and indeed, this sometimes leads to impatience or frustration. But our relationship is built on a longstanding foundation of values: freedom, democracy, rule of law, and free market principles. And these values, at the end of the day, after all the quarrelling, they unite Europe and America."
Students take the mic
Students then asked Mr. Rutte questions—often sprinkled with Dutch—about international issues regarding the EU, including Syrian refugees, Turkish visa liberalization, NATO expansion, and Brexit.
Burak Han Cevik, an international legal studies master's candidate at Washington College of Law (WCL), was impressed by Mr. Rutte's candor. A Dutch national himself, Han Cevik hopes to join the Dutch Foreign Service upon graduation.
"Mr. Rutte was very open and honest with his answers on critical questions, such as one about the Intelligence Service and relations between the Netherlands, Turkey, and Belgium. Prime Minister Rutte acknowledged that his country and the European Union are working to improve these internal relations with other countries," Han Cevik said.
Isabel Terwindt, a senior from the Netherlands who is studying neuroscience in the College of Arts and Sciences (CAS), was thrilled to see the leader of her country at SIS.
"After being here [in the U.S.] for four years, it was really cool to hear him talk and realize why I believe the things that I do. It's because I am Dutch. We are always open and accept everyone, and I think that really came through in Mr. Rutte's speech," she said, before running to grab a selfie with the prime minister after the talk.
Mr. Rutte is known for his passion for personal freedom—security at the event was present, but relaxed. His sleeves rolled up, the prime minister conveyed ease throughout the town hall. After the event, he even stood outside of SIS for close to an hour to speak to the press and take photos with students as curious onlookers walked past.
"Rutte is down-to-earth. He even rides his bike to his office in the Netherlands," said Han Cevik. "He is proof that no matter how important your title is, remaining among the citizens by doing daily activities improves the connection between him and his audiences."
"Rutte's visit meant a lot to me," Han Cevik continued. "He was an inspiration for students who will perhaps stand one day in the position where he was today."
"Today was another example of the visibility of SIS, as well as the scope of interests among the student body, who had a range of questions for Prime Minister Rutte," said Professor Egan. "The Prime Minister emphasized the importance of trade for economic prosperity, and is strongly in favor of both the completion of the single market and the current US-EU trade negotiations known as TTIP. He also pointed to some of the pressures on Europe, as well as the varied responses to crises, that are complex and long-term."
Watch the video of the discussion here.