International
Deputy Prime Minister of Malaysia visits SIS, discusses terrorism and trade with students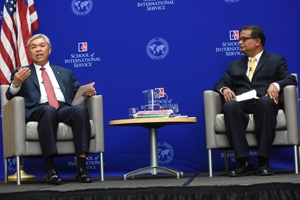 The Right Honourable Dato' Seri Dr. Ahmad Zahid Hamidi, the Deputy Prime Minister of Malaysia, discussed terrorism, the Trans-Pacific Partnership (TPP) agreement, and other global issues with 300 students and faculty at the School of International Service (SIS) on Saturday, April 2.
Ahmad Zahid was among 53 world leaders visiting Washington, D.C., to attend the Nuclear Security Summit last week, including two other recent guests to SIS: prime ministers Mark Rutte of the Netherlands and Justin Trudeau of Canada.
Pek Koon Heng, SIS professor and director of the Association of Southeast Asian Nations (ASEAN) Studies Center at American University, gave opening remarks, lauding the strengthened partnership between the United States and Malaysia: "We are deeply honored by Dr. Ahmad Zahid's presence here and the opportunity it gives us to celebrate the vibrant cooperation between the United States and Malaysia, which President Barrack Obama upgraded to a comprehensive partnership during his state visit to Kuala Lumpur in April, 2014."
Discussion moderator Professor Amitav Acharya, the UNESCO Chair in Transnational Challenges and Governance and ASEAN Chair at SIS, introduced Ahmad Zahid. Acharya praised Malaysia for its multi-culturalism and leadership role in world politics.
"Malaysia is a progressive developmental state. It is the founder of ASEAN. It is a leader of the developing world and one of the emerging nations to help and redefine world politics in the twenty-first century. We are especially fortunate and delighted to welcome our distinguished speaker today and have a chance to listen from him his views on Malaysia, Southeast Asia, and the world, focused on questions of extremism and terrorism and how to address them," Acharya said.
Given the recent terrorist attacks in Brussels and Lahore, Ahmad Zahid emphasized the need for nations to fight together against the Islamic State--and to do it quickly.
"Terrorism and radicalization threaten the national security of nearly every sovereign nation. We need to be clear about what we are facing. DAESH executes religious and ethnic minorities, beheads civilians, and murders children. They systematically kidnap, rape and torture women and girls. Let me be clear: we must work together to defeat and destroy them before they destroy us," declared Ahmad Zahid, voice raised.
The deputy prime minister stressed that Malaysia, as a multicultural and multi-ethnic country, is committed to working with the United States and others to defeat terrorism.
"Addressing terrorism and extremism will be one of the defining issues of our time. It will only be achieved if we are willing to constructively engage with one another and to pursue peace. I know our friendship and partnership will help us all to address the challenges we face today," said Ahmad Zahid.
The deputy prime minister then explained Malaysia's counter-terrorism strategy, which includes a de-radicalization facility for suspected terrorists. The program is designed to win over the "hearts and minds" of detainees and to ultimately, change their understanding of terrorism. According to him, the program has an incredible 97.5 percent success rate in rehabilitating extremists back into society.
"In the effort to rehabilitate militant detainees, using excessive force has been found to be ineffective. Therefore, we have found that a more prudent and psychological approach is best in changing the ideology of the detainees. We cannot ignore the fact that some of them will revert to their old ideology," he conceded. "However, if they do, they know that a severe punishment will be waiting for them."
In the question and answer portion of the discussion, Acharya asked the Deputy Prime Minister to elaborate on the potential benefits to Malaysia of the Trans-Pacific Partnership (TPP), a trade agreement among twelve Pacific Rim countries. Malaysia was the first country to sign and ratify the agreement.
"This historic agreement will open up global trade and investment opportunities to 800 million people," said Ahmad Zahid. "It is another important step forward in our bilateral relations. Malaysia is proud to be the first country to ratify the TPP."
During the discussion, Ahmad Zahid also addressed students' questions about migrant workers, the 2015 Southeast Asian Haze, sectarian conflict, the U.S. presidential election, and how he began his career in politics.
Fangshi Zhang, a freshman, found out about the discussion from Dr. Heng, who teaches his China, U.S. and Japan class.
"It's pretty cool. Personally, I really liked the Deputy Prime Minister because he played a role in changing the new visa policy for Chinese people to visit Malaysia," said Zhang, who is from China. Thanks to the new policy, Zhang plans to volunteer in Malaysia this summer.
In his concluding remarks, Acharya praised SIS for continuing to be the leading school politicians visit to make an impact on the next generation of world leaders.
"We have over the years at this university hosted many distinguished politicians. Not only John F. Kennedy, but Barrack Obama has visited twice. We had Prime Minister Justin Trudeau a couple of weeks ago and the Prime Minister of the Netherlands just a couple of days ago," Acharya said.
He continued, "But what is really important, for us and for our students in particular, is the opportunity to come into contact with politicians who actually have built their nations. There is no learning that you can have in the classroom that compares with this."
Watch the video here.
Learn about upcoming events at SIS.