International
Professor examines the politics of sexuality education in Nigeria and Mississippi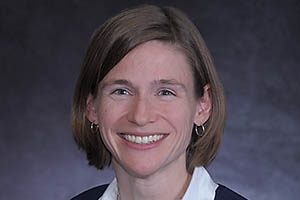 Associate Professor Rachel Sullivan Robinson is a sociologist and demographer whose research focuses on the politics of population, reproductive health, and HIV/AIDS in sub-Saharan Africa. On Friday, May 6, Robinson will present findings from her research on the politics and policy surrounding sexuality education in Nigeria and Mississippi. The project, titled "Prioritizing Sexuality Education in Nigeria and Mississippi: The Importance of Local Actors, Creative Strategy, and Political Opportunity," is funded by the John D. and Catherine T. MacArthur Foundation. The event is presented by the Population Reference Bureau (PRB) and can be livestreamed. We asked Professor Robinson to tell us more about how religious and cultural norms shape sexuality education across the globe:
What is the goal of the May 6 symposium?
The goal of our event, and of our collective research, is to explore the intersection of politics and policy around sexuality education in Nigeria and Mississippi.
The panels will draw on research conducted by myself and other scholars both at American University and the University of Lagos, as well as the experience of funders and advocates central to sexuality education policy dynamics in both Nigeria and Mississippi. We look forward to the interactive discussion that will follow the panels, in which scholars and practitioners will reflect on how to manage the political sensitivities surrounding sexuality education.
Who else is involved with this research?
Professor Jeremy Shiffman of AU's School of Public Affairs is my co-principal investigator for this project. We also have a collaborator in Nigeria – Dr. Michael Kunnuji, a senior lecturer at the University of Lagos. Our work is funded by the John D. and Catherine T. MacArthur Foundation.
And of course, this research would not have been possible without the support of our interviewees from a variety of federal and local government offices, nonprofit organizations, and other key players in Nigeria and Mississippi.
What are your main research findings?
Both Nigeria and Mississippi have passed legislation since the 1990s that suggest advances, albeit not without challenges, for sexuality education. We discovered the following:
• Nigeria: The Nigerian government approved the inclusion of sexuality education in school curricula in 1999 due to a confluence of forces: national concern over rising AIDS prevalence; advocacy by domestic non-governmental organizations; the embrace by these NGOs of international norms; international donor support; and differing levels of government and social support and opposition across Nigerian states.
• Mississippi: The state legislature of Mississippi passed a bill in 2011 requiring all school districts to offer some form of sexuality education due to the following factors: strong advocacy on the part of local individuals and organizations supported by external actors; strategic action in the form of compromise and flying under the radar; and broad agreement among proponents and opponents that sexuality education served as a solution to the pressing social problem of teenage pregnancy.
You mentioned there were some political challenges regarding these policies. What were some of the issues you identified, both in terms of legislation and implementation?
Both Nigeria and Mississippi are, in their respective ways, culturally and religiously conservative places. Because of that, compromises had to be made in order for the legislative acts to be passed.
For instance, although the Nigerian program includes HIV/AIDS and other sexuality-related topics in the curriculum, it is not called sexuality education explicitly. During the negotiation process, the name was changed to "Family Life and HIV Education" and the content became abstinence-only.
The compromise in Mississippi was that school districts could choose whether they wished to provide either comprehensive or abstinence-only programs. Additional conditions included the requirement of gender-separate courses and parental consent, with no condom demonstrations allowed.
In terms of implementation, both areas lack sufficient resources. Nigerian states vary in their ability to implement the program due to differential funding by international donor organizations, and the varied capacity of state ministries to coordinate and enact programs. The U.S. Department of Human Services provided assistance in Mississippi, but only to school districts that opted for the comprehensive curriculum, which goes beyond abstinence-only to include discussions of contraception. The availability of resources to support the in-service training of teachers, which is very expensive, prompted some unlikely school districts to adopt the more comprehensive curriculum.
At the end of the day, the quality of sexuality education also depends on the teachers. Are those in charge of facilitating these programs comfortable with the material themselves?
The end result is that both curricula have been watered down. However, these are steps in the right direction, made possible only by the dedicated involvement of local actors.
How do you hope your findings will advance both research in this field and sexuality education in Nigeria and Mississippi?
I think it's important to keep the dialogue going. Sexuality education is a controversial topic. In order to make sex-related health interventions truly effective, the idea of sexuality education itself needs to become normalized and expected. In our research, we have discovered strategies that can be effective in socially-conservative contexts. It's our hope that other places facing similar concerns can adapt these ideas to find ways to better serve populations.
Learn more about the symposium.