International
SIS online students connect in person for academic and professional development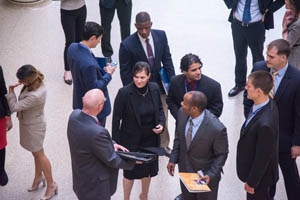 50 online graduate students traveled to American University from around the world to interact in person with peers, faculty, and staff during the summer 2016 On-Campus Immersion from April 28 - May 1. Immersion, a biannual event, provided online graduate students from the Master of Arts in International Relations (MAIR) and Executive Master of International Service (MIS) programs a unique opportunity to connect face-to-face with their classmates and professors over academic and professional development activities. The SIS Office of Online Programs hosted the session.
For the academic component of Immersion, MAIR students completed one of two skills institutes: Culturally-Responsive Program Design or Mastering the Military. Culturally-Responsive Program Design, led by Professorial Lecturer Amanda Taylor, taught students how to adopt a culturally-responsive approach to program design and analysis to increase program effectiveness and promote social justice. In contrast, Mastering the Military, taught by Distinguished Practitioner in Residence Lt. Gen. David Barno (Ret.) and Distinguished Scholar in Residence Nora Bensahel, acquainted students with the complex structure, processes, and culture of the U.S. Department of Defense, branches of the U.S. Armed Forces, and U.S. Special Operations Forces (USSOCOM).
Meanwhile, MIS students participated in an Executive Leadership course, taught by Professorial Lecturer Nancy Sachs. Students learned about professional decision-making, ethical leadership, strategic communication, teamwork, emotional intelligence, leading multi-cultural workforces, and change and crisis management. The Executive Leadership course is delivered in a hybrid format in which the first portion is taught in person during Immersion, and the class then continues to meet online each week during the summer semester.
On Friday, April 29, all students attending Immersion participated in the day-long Site Visit Program, a professional development event designed to familiarize students with employers working in a specific sector of the international relations arena. Over the course of the day, students traveled to three different employers with a small group of peers. Each visit's agenda included a brief overview of the organization followed by a panel discussion with current employees. Participating employers included ANSER; the Bureau of Democracy, Human Rights, and Labor at the U.S. Department of State; the Defense Intelligence Agency; FHI 360; Kroll; National Democratic Institute; PYXERA Global; Search for Common Ground; TDInternational, LLC; USSOCOM; and Vital Voices.
The next Immersion will take place in August 2016 ahead of the fall 2016 semester.
Learn more about the International Relations online master's programs.