International
Workshop explored role of female fighters in modern conflicts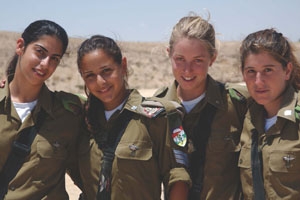 On May 26, the School of International Service (SIS) hosted a workshop called "The Measurement and Conceptualization of Female Combatants" in the Abramson Family Founders Room. This event brought together a broad range of twenty scholars to explore the roles of women in international and civil conflicts, including women's participation as combatants in national militaries and armed rebel groups.
The session, coordinated by SIS Assistant Professor Jessica Trisko Darden and Bucknell University Visiting Assistant Professor Alexis Henshaw, offered a look at current and forthcoming scholarly work on women in national militaries and armed insurgencies, including in Turkey, Syria, and Ukraine. The event provided a forum for developing future projects and established relationships between academics, policymakers, and the broader scholarly community.
"For many years, there has been an assumption among members of the policy community that women are playing a large role in peacebuilding efforts. But empirical research is emerging that suggests the opposite: that in fact, women are contributing to conflicts and violence. The work of these scholars is fundamentally contradicting the narrative that women are peacekeepers. The story is not as simple as that. These scholars are unpacking the complexity of women's participation in conflict," said Trisko Darden.
The workshop revealed that women are playing active combat roles worldwide. In the Middle East for instance, women are participating on both sides of the conflict with the Islamic State. While ISIS relies on an all-female police brigade to enforce religious order, female Peshmerga fighters are being trained by coalition forces to fight against ISIS. Turning to Nigeria, Boko Haram has increasingly relied on the use of women and girls as suicide bombers, possibly drawing on a large pool of female captives. In Colombia, female members of the Revolutionary Armed Forces of Colombia have been active participants in ongoing peace negotiations, even maintaining their own website and social media presence. Simultaneously, women in Ukraine are being mobilized by the military and Russian-backed rebel groups.
One panel featured Professor Mia Bloom of Georgia State University, who spoke about countering violent extremism among women. Although the face of Islamic terrorism used to be male, Bloom discussed how women are playing increasingly violent and public roles in terrorist organizations. ISIS in particular sees many perks to recruiting women—mainly, so that those women can recruit other women. Young girls are taught to fear men online, but not women, making it easier for them to be lured in by a female recruiter, Bloom explained. Even more so if she is beautiful—a trait that according to Bloom, ISIS seeks out in female fighters. But why would these women want to become suicide bombers? According to Bloom, "Women in these societies are often convinced that death is more powerful than life. That they achieve more dead than they do alive."
Professor Dara Cohen of Harvard University discussed her research on women as combatants and perpetrators of violence. Using the Sierra Leone civil war as a case study, Cohen analyzed patterns of violence by sex: acts of rape, amputation, assault/beating, forced cannibalism, and degradation of property. She discovered that women in mixed gender groups were most likely to participate in the cannibalism. However, the lack of data about female involvement in the civil war means that many questions remain unresolved. Cohen suggested that female acts of violence, especially if directed at men, would be less likely to be reported.
The conference provided an opportunity to understand the complex combatant roles women play worldwide, an important step towards conflict management and resolution.