International
Conference proposes reform of global financial governance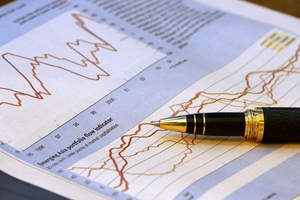 Against the backdrop of the International Monetary Fund and World Bank spring meetings, Professor C. Randall Henning released a new book, Global Financial Governance Confronts the Rising Powers, at a conference on April 14 at the Mayflower Hotel in Washington, D.C. Henning co-edited the volume with University of Melbourne Professor Andrew Walter. The event was organized by American University (AU) and the Centre for International Governance Innovation (CIGI).
Henning presented main proposals from the book, which include:
• Global multilateral organizations and the Group of Twenty (G20) should prepare for further volatility in international financial markets by expanding the global financial safety net and deepening international cooperation and;
• The International Monetary Fund (IMF) should work with regional funds to stabilize markets and international regulatory bodies should include emerging-market countries more fully.
According to Henning, emerging-market and developing countries, including China, India, Mexico, South Korea, and Turkey, now represent more than 40 percent of the world economy and their share continues to rise. The book addresses the substantive and institutional challenges that these rising powers pose for global governance in the domain of financial and macroeconomic cooperation.
Global Financial Governance Confronts the Rising Powers is the outcome of a project that SIS Professor Miles Kahler and UC Berkeley Professor Barry Eichengreen began three years ago on the G20-related issues of particular concern to these newly influential countries. The project brought together scholars from six large emerging economies, plus Australia and the United States.
Recently, as Henning explained, prominent economists have argued that flexible exchange rates do not provide autonomy for the monetary policies of emerging as well as advanced countries -- that the tradeoff among capital mobility, currency stability, and monetary autonomy that is known as the international monetary "trilemma" is obsolete. This book argues, to the contrary, that the trilemma persists and shapes the policy choices with which governments are presented. It recommends that the G20 elaborate on guidance on capital controls and other capital flow measures and suggests specific ways to strengthen the safety net in order to cushion emerging-market countries when crises hit.
During the conference, three senior international experts discussed the book's findings and the challenges posed by financial volatility for global institutions and their future agendas:
• He Fan, Chief Economist and Managing Director of Caixin Insight Group, addressed the Chinese exchange rate policy in light of dramatic recent swings in Chinese financial markets. He argued that the shift of the People's Bank of China (PBOC) toward a more flexible exchange rate regime on August 11, 2015, was the right decision but at the wrong time. The markets were very sensitive given the drop in the stock market that had preceded the decision. As a consequence, a significant capital outflow and currency depreciation followed, prompting the PBOC to intervene in the foreign exchange market and apply macro-prudential measures to halt further outflows. While PBOC was successful in stabilizing the exchange rate, Dr. He questioned whether the success will be sustainable, as that depends on the future path of monetary policy in the United States, among other things. He warns that capital controls will become increasingly difficult to enforce, which will require more flexibility in the exchange rate regime. A managed float or a so-called "band, basket, crawl" regime, as practiced by Singapore, are viable options. Chinese monetary authorities tend to favor currency flexibility, because it gives them more autonomy; but the political leadership tends to favor a more stable exchange rate, because it associates (de)appreciation with shock therapy and is more comfortable with incremental reform;
• José de Gregorio, Professor of Economics at the University of Chile and former Governor of the Central Bank of Chile and Minister of Economy, Mining and Energy, emphasized the changes in the international macroeconomic environment since the establishment of the Bretton Woods institutions. Countries are now much more integrated, global policy convergence is greater, and relative power has shifted in favor of emerging markets. The Bretton Woods institutions and the overall international financial architecture, with a few positive exceptions such as the Basel meetings and the G20, have lagged these fundamental developments. Prof. de Gregorio favors global coordination but warns emerging economies not to rely too heavily on international institutions for policy solutions. Rather, he argues, "the first line of defense is at home." Chile offers an example of small country that was successful because it followed simple rules of sound policy, such as an independent central bank with a price stability mandate, low ratio of debt to GDP, and strong financial regulation, especially of banks and;
• Thomas A. Bernes, former President of CIGI and presently a CIGI Distinguished Fellow who has extensive high-level experience in these international financial institutions, observed that emerging markets are currently under-represented in global governance. Rectifying this shortcoming must be a priority if these institutions are to pursue policy agendas related to the issues of the future. He acknowledged that many emerging markets might not have a "world view," but questioned whether any country actually does. Inter-institutional cooperation is a very important issue for the future, he argued, and suggested that we learn from the IMF's engagement with the European Commission and European Central Bank (known collectively as the "troika") during the euro crisis. Bernes argued in particular that clear rules of engagement are crucial for inter-institutional cooperation. He disagreed with those who argue that having clear rules would constrain institutional flexibility; instead, they are needed to enhance accountability and minimize the possibility of conflict. If circumstances require more flexibility, the framework can be changed accordingly.
Learn more about Henning's book here.