International
From MCAT to Peace Corps: An alumnus' journey to a career in international affairs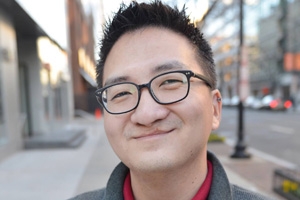 Thanks to his Peace Corps service in Thailand, Kyle Livingston, SIS/MA '15, reversed his career plans. Rather than become a doctor like his parents, Livingston instead decided to pursue the field of international affairs.
"The Peace Corps asked me at the last second if I could switch my assignment from Eastern Europe to Thailand. I decided to go for it and ended up falling in love with Southeast Asia and international development," Livingston explained.
Livingston arrived in Thailand in 2011 during the election of the country's first female prime minister. He created, organized, and hosted two gender empowerment, youth leadership, and sexual health camps for more than 100 high school students from across Thailand. One highlight was that Kristie Kenney, who was then the United States Ambassador to Thailand, agreed to his request—much to his surprise—to visit both camps and speak to students. Livingston's experience in educating youth about contemporary issues sparked his passion for international development.
Swapping his MCAT books for GRE ones, Livingston studied for the test, passed it, and applied to graduate schools in 2012. He enrolled in the Comparative and Regional Studies program in fall 2013, ready to pursue his calling. While a student, he returned to Thailand for a summer to work as a public affairs intern at the U.S. Embassy in Bangkok—just one month after the Thai military coup d'état took place.
Currently, Livingston works full-time for the Peace Corps as a social media and digital engagement strategist. He is also a consultant for Walt Disney Animation Studios on cultural issues pertaining to Southeast Asia.
Livingston remembers his time at SIS fondly, especially Professor Pek Koon Heng-Blackburn's two courses on Southeast Asia. An active alumnus, he volunteers his time by serving on career panels at SIS. He is even considering coming back to audit a class in the fall.
"I have nothing but praise for this school," he declared, smiling. "Most people have a very deep connection to the college or university where they completed their undergraduate degree. For me, it's the exact opposite. I have a very strong connection to my graduate program because it has put me on the path I'm on today."