International
Alumna praises online programs at SIS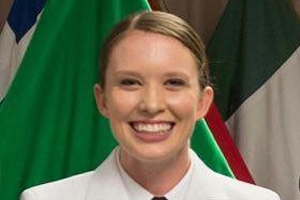 Emily Ham, SIS/MA '15, set foot on American University's campus for the first time as the School of International Service's graduate student commencement speaker in May 2015.
"Being the commencement speaker was a wonderful experience. I will never forget it," Ham said. "It was such a joy to be able to share with people my phenomenal experience in the program."
Ham serves as a lieutenant in the U.S. Navy. Although she is now based in Washington, D.C., she completed her master's degree for the Master of Arts in International Relations Online (IR Online) program from Belgium, where she was stationed at the time with the North Atlantic Treaty Organization (NATO). Throughout her studies, she worked as an Analyst in the Crisis and Situational Awareness Section in the Comprehensive Crisis Management and Operations Center at NATO's Supreme Headquarters Allied Powers Europe (SHAPE).
Ham decided to pursue online education because it provided the flexibility she needed in the military. However, she steered clear of traditional online programs, which tend to be non-interactive. IR Online at SIS caught her eye because the program provided opportunities to engage with her professors and classmates face to face, even from across the Atlantic.
"Although I wasn't on-site, I had the opportunity to interact with my classmates in real time. When you enroll in SIS's online graduate programs, you are not just a username. There is always a very personalized aspect to the program," Ham said.
She also able to contribute her professional experiences to class discussions—which meant, as Ham jokes, that she became the go-to NATO expert of her cohort. Thanks to SIS, Ham believes she has gained a broader appreciation for international partnerships and conflict resolution across the globe.
Even though Ham did not visit campus until commencement, she felt connected to it all along.
"Online education isn't what people think it is anymore. It's not a cop out or the degree you pursue because you have no other alternatives. It is the degree you get because that is what you chose and are proud of," said Ham.
Learn more about IR Online: ironline.american.edu