International
SIS welcomes Audrey Kurth Cronin to faculty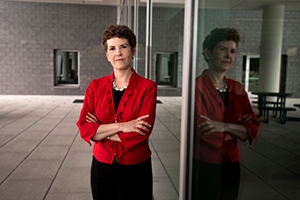 Professor Audrey Kurth Cronin, an expert on political violence, terrorism, and conflict, joins the School of International Service (SIS) faculty this fall semester. We asked Professor Cronin to tell us more about her research and what brings her to SIS.
Tell us a little about yourself.
I've had an unusual academic career moving back and forth between academe and public service. In trying to solve security-related problems, I've worked in government offices, university classrooms, and even a few dodgy corners of the world. I like the marriage of theory and practice—learning firsthand about practical problems and trying to develop rigorous ways to address them. Writing just for a handful of scholars who understand a specialized topic doesn't interest me. I'm either ambitious or foolish enough to believe we should communicate clearly and broadly, to try to make a contribution and change the world.
I also love to bring people together to think about new ideas. Right before coming to SIS, I was distinguished service professor at George Mason University at Schar School of Policy and Government, and founding director of both the International Security master's program and the Center for Security Policy Studies.
My degrees are from Oxford University, where I was a Marshall Scholar from Princeton University. Later I returned to Oxford to direct studies at the Changing Character of War program. In addition to George Mason, I've taught at Oxford University, University of Maryland's School of Public Affairs, Columbia University's School of International and Public Affairs, University of Virginia, and Georgetown University. I've also worked at the Congressional Research Service, Office of the Secretary of Defense for Policy, Secretary of the Navy's office, US Embassy in Moscow, and the US National War College.
I am happily married, have two children in their 20s, and a sheltie-collie mix rescue dog. I also am a big Nationals baseball fan.
What are your research interests? And, what are you working on currently?
The question of how conflicts end has always interested me. My best-known book is probably How Terrorism Ends: Understanding the Decline and Demise of Terrorist Campaigns. I write a lot about terrorism and other types of political violence, as well as the full range of topics related to US policy-making and conflict. Right now, I'm intensively writing a book manuscript on how democratized emerging technologies are revolutionizing security. It will be finished by the end of 2016.

Do you have additional affiliations or other professional endeavors?
Often I tell my students I'm living a Forrest Gump life. Somehow I end up in the most amazing situations, much to my own surprise. For example, right out of high school, I worked in the American Embassy in Moscow, met George F. Kennan, and had a long talk with Paul Nitze, then found myself at Oxford trying to sort out proper etiquette for a woman at high table. Things haven't slowed down since.
More recently, I have been head of the Global Agenda Council on Terrorism and spoken repeatedly at the World Economic Forum's annual meeting in Davos. I was also a special advisor for the independent monitoring commission on peace in Northern Ireland. I'm a board member of the Botstiber Foundation on Austrian-American studies, on numerous editorial boards (e.g., Journal of Strategic Studies, Studies in Conflict and Terrorism, the Army War College's Parameters), and a member of the Council on Foreign Relations.
I do a lot of advising and consulting for senior officials in the United States—both private and public, executive and legislative branches (no dropping names this time!)—and for other organizations and governments abroad.
My latest adventure was last summer, when I was lucky to be named the 2015 Keogh Chair by the Australian Army. I got to travel around the country to Sydney, Darwin, Brisbane, and Canberra,. meeting incredibly smart and vigorous people, from soldiers to generals, academics to Members of Parliament. I also learned a lot about saltwater crocodiles and redback spiders!
What excites you most about joining American University's School of International Service?
There's a palpable dynamism at SIS, a sense of being forward leaning, agile, and dedicated to solving the key problems of the 21st century. Dean James Goldgeier's vision appeals to me. More than ever we need leaders who mobilize our best instincts and demand our best contributions. Dean Goldgeier is one of those leaders.
I enjoyed talking to the faculty members I met during my interviews about their interdisciplinary research and innovative teaching, and am eager to get to know them better, to bat ideas back and forth, develop our mutual interests, and collaborate. I believe I'm entering a collegial place full of positive, talented people, from the most junior to senior levels, and am looking forward to working together.
And above all, the students excite me. Those I met were energetic, eager to learn, dedicated to making a difference.