International
AU Model UN gears up for strong season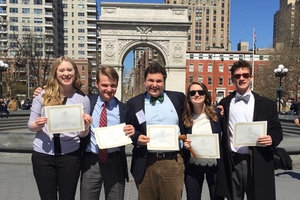 The American University (AU) Model United Nations team is no stranger to success on the collegiate circuit. Carrying momentum from the 2015–2016 season, which included numerous awards at competitions with some of the nation's top universities, the team has set its sights even higher this academic year with new leadership and new student members.
Organized by the American University International Relations Society (AMIRS), a School of International Service (SIS) student organization, AU's Model UN team competes around the country in simulations that allow students to learn about diplomacy and the United Nations.
Under the leadership of Head Delegate Alex Davis, SIS/BA '18, and Executive Director Austin Benner, SIS/BA '19, the group is set to compete in seven prestigious tournaments across fall and spring semesters both in the United States and Canada, including at the Boston Area Model United Nations Conference (BarMUN), the Harvard Model UN Conference, and the West Point Model UN Invitational. Davis and Benner, as well as Secretary-General Nuha Hamid, SIS/BA '19, will be busy this year organizing and facilitating two high school Model UN conferences, as well as a fully-simulated Model G20 conference at SIS.
SIS Instructor Andrew Spath will coach this year's team, as well as advise AMIRS, and is impressed with the passion and dedication the students exhibit toward the organization: "To my mind, they are the most active and versatile student organization on campus, by virtue of these wide-ranging activities. The way they organize themselves to accomplish all of this is pretty remarkable."
While Davis, Benner, and Spath gear up for the season, part of their preparation for competition involves staying informed on world issues, including the 71st Session of the United Nations General Assembly (UNGA), currently underway.
Active Model UN and AMIRS member Oksana Ryjouk, BA/SIS '18, finds this Session to be especially pivotal.
"There are myriad important topics the UNGA needs to address [during the 71st Session]. The Syrian Civil War Crisis, water depletion in the Southern African continent, the energy climax in the Middle East, health epidemic in Latin America, and the social and political inequalities in the Global North: there are, in effect, so many regions on which to focus," says Ryjouk. "The General Assembly (GA) should focus on security and conflict resolution topics—areas in which the GA can improve international law disputes to coalesce border security and fourth-generation warfare, and areas in which internally displaced persons can have access to basic human rights. Understanding that the UN is a large organization of multiple committees responding to the General Assembly, this will, again, be a tumultuous year of policy improvements and reformations."
In addition to staying current on global topics, Model UN preparations involve honing communications skills needed for the diplomatic setting. At the team's tryouts, for example, students were evaluated on public speaking and how well they worked with others in two traditional simulations: The General Assembly (GA) and Crisis committees.
In the GA scenarios, students reenact a United Nations gathering in order to solve a specific geopolitical problem. In its less formal counterpart, the dynamic Crisis committees allow student delegates to debate and communicate on unpredictable events, such as mock conflicts or economic crises. These sessions may be interrupted by "real" news or information and push the delegates to adapt.
With particular Model UN decorum enforced during simulations, including time limits on speaking and convening with teammates, skills learned in the debate room give students like Davis and Ryjouk an advantage in the classroom. Said Ryjouk: "In class, my remarks are [now] much more succinct in terms of how I express myself."
Looking ahead, the team will enter its first competition in Boston in one month. Davis expressed that the group's mindset going into the tournament "is the same mindset we have going into every conference: do yourself, your team, and AU proud."