International
Secretary-General of OECD Angel Gurría to give keynote at American University Model G20 Initiative Launch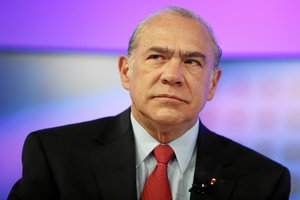 Angel Gurría, secretary-general of the Organisation of Economic Co-operation and Development (OECD), will deliver the keynote address for the American University Model G20 Initiative Inaugural event at 4 p.m., Thursday, October 6, at the School of International Service (SIS).
Gurría, who has held the role of secretary-general since June 2006, will speak on the contributions and challenges of the Group of Twenty (G20) from the perspective of the OECD.
Since 2008, the G20 has become the premiere forum for international economic cooperation and the OECD has been an active, long-term partner of the G20 in its efforts to strengthen the global economy during moments of crisis.
"The OECD has been working with the G20 from day one," wrote Miguel Gorman, OECD media officer. "Through our multidisciplinary expertise, we have made substantive contributions in several areas, including work on structural reform, human and social dimensions of development, anti-corruption…innovation, [and] trade and investment."
OECD has further recognized youth inclusion as crucial to advancing its agenda to strengthen governments and economies around the world. "The greatest challenge for governments in the years to come is to devise policies which equip young people with the professional skills they need," said Gorman.
To that end, SIS has launched the American University Model G20 (MG20) Initiative, the first US-based, standalone experiential learning program on the G20, which will equip students with those professional skills in a unique delegation setting.
"The world is going through a very challenging phase and the global economy is certainly no exception," explained Cecilia Nahón, MG20 executive director. "So that's why we believe students need to be very well-equipped to deal with these challenges, and to be able to discuss, share, and negotiate perspectives. Not only with a US-[focused] vision, but with the vision that includes all countries represented around the world."
Gurría's keynote address marks the launch of the MG20 Initiative at SIS, with a Summit to follow in the spring from March 17–19, 2017. The summit will include a one-day symposium with a series of panels and presentations related to the G20, as well as a two-day, full G20 Summit simulation to train students in negotiations, diplomacy, and public speaking. Students both from American University or other colleges and universities interested in participating in AU MG20 are encouraged to learn more at the Model G20 website.
Want to know more? Ahead of Angel Gurría's keynote address at the October 6 American University Model G20 Initiative Inaugural event, we sat down with Cecilia Nahón, executive director of the newly launched AU Model G20 Initiative, to discuss the G20, OECD, and its importance in today's global economy.