International
SIS professor provides small businesses big opportunity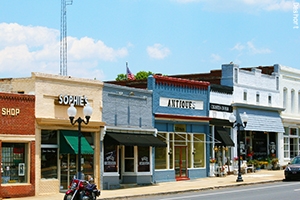 As the department store catalogs begin to pour in this holiday season, one professor reminds us that when it comes to whom we give business, bigger isn't necessarily always better. Krista Tuomi, an expert in small business/start-up financing (also known as seed financing) and professor at the School of International Service, is helping small business owners, budding entrepreneurs, and local economies grow by passing on her knowledge to them—for free.
Working with local incubators and a volunteer arm of the Small Business Association called SCORE, Tuomi provides pro bono financial boot camps, workshops, and consultations to those looking to get their business ventures off the ground.
"Technically, I should be advising them on how to fund their businesses, be it with loans, debts, creditors, crowdfunding—really all forms of funding—but when I work with different types of entrepreneurs, the questions and things that I end up dealing with can be anything from their own personal finances to how do they structure student loans or insurance," she says.
Tuomi has seen it all, from a woman in Shenandoah Valley looking to start a yurt business to a government employee with aspirations of opening an artisanal donut shop in the city. She has worked with entrepreneurs in deflated local economies like Midland, Michigan, and with minorities, women, and veteran entrepreneurs to make their business dreams come true. Her knowledge of seed financing options, patents, and marketing strategies is vast and constantly growing to meet her clients' needs.
"When I go in to these boot camps or workshops, I have no idea what I'm going to get. But it's interesting and it's challenging," she says. "It's such a rapidly developing area, with new forms of lending and different forms of debts and grants; it's a nightmare for small businesses or mom and pop shops to try to navigate."
Take the growth of crowdfunding for example. In recent years, online platforms like GoFundMe, Indiegogo, and Kickstarter have seen unique products, personal projects, charity fundraisers, and other campaigns into fruition through donation and reward-based funding—this is known as charity crowdfunding. However, equity crowdfunding is expected to grow in the coming years as a means of raising startup funds in exchange for investor shares in a company. While crowdfunding is a popular option now, Tuomi says it's not necessarily the end-all, be-all financing solution. "In many cases I will shoot people down and say 'Nope, there are other forms of financing. This is not the risk that you want to take.' Crowdfunding is not the answer for every entrepreneur or every charity."
What she advises instead, depending on the business, is to find innovative financing elsewhere in forms of grants, angel capital, the private sector, or even personal savings. Overall, Tuomi says that most small businesses fail in large part because of the risk in starting them: "That's why innovation is important here." One option she suggests to her clients to acquire funding is to include a philanthropic aspect to their campaigns—for example, donating a portion of proceeds to a charitable cause—so that investors feel that their money is doing good, even if the business fails in the end.
Originally from South Africa, Tuomi's interest and motivation in providing free boot camps and workshops stems from her observations about the economy back home: "I come from a country of 25% unemployment, which is not going to be cured by big businesses any time soon. Jobs are going to come from small businesses, and nothing is more dignifying than giving somebody work that they value. To me, this is the best way of hand-up, not handout."
Similarly, in the US, Tuomi has taken her show on the road to parts of the country where economies would benefit from small businesses: "Michigan has had a lot of problems with the collapse of the car companies and merger of the chemical firms, so there's a desperate need to refocus on entrepreneurship skills."
Of the businesses and entrepreneurs she's worked with over the years, most are still in beta phase and testing their ideas or products out, but there are a few for which she has high hopes, hinting that in a few years' time, she would like to see their success and business growth on scale with Uber. Until then, Tuomi continues to take on new projects and talk through business plans with budding entrepreneurs.