International
Combating global HIV/AIDS epidemic starts in DC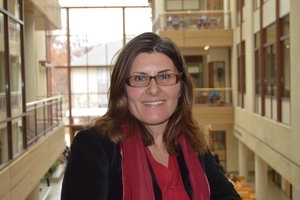 Professor Maria De Jesus, a health disparities and cross-cultural communication expert, understands the importance of collaborating with local communities to combat one of the world's most daunting challenges: the HIV/AIDS epidemic. When it comes to this public health issue, De Jesus stresses the importance of understanding that "local is global, and global is local."
"[In the US,] we have a very natural way of saying: 'AIDS is this thing in another part of the world. It's not impacting our local communities; and if it is, we're managing it.' But we can do a lot better in terms of reducing this epidemic," she says, pointing out that this misconception is due in part to the fact that a large portion of US HIV/AIDS relief is sent to Africa.
At home, however, according to the Centers for Disease Control and Prevention, DC residents have the highest risk in the US of being diagnosed with HIV at some point in their lifetime. While the national average is 1 in 99 chance of being diagnosed, DC's average is 1 in 13. "Although the rate of new HIV diagnoses in Washington, DC, is lowering year by year, I'm sad to say that things are far from perfect. There's a lot of work to be done still," says De Jesus.
With funding from the District of Columbia Center for AIDS Research, De Jesus combined local, historical, and religious knowledge to conduct research during the past four years aimed at reducing HIV/AIDS infection rates in DC. Through her unique community-based study, De Jesus examined human immunodeficiency virus (HIV) knowledge, attitudes, and perceptions, as well as the barriers and communication norms among two populations disproportionately affected by the disease in DC: African-American and East African-born women.
"Many assume that the realities of individuals categorized as 'African American/Black' are the same as those of African-born individuals," she says. "But there are large African immigrant communities in DC, too, and we have very little data that tells us anything in terms of sociocultural data."
To this end, De Jesus began working closely with The Women's Collective, a DC-based nonprofit organization, which primarily serves at-risk and HIV-positive African and African-American women, in order to understand the contextual and sociocultural determinants for contracting the virus between the two populations of women.
More noticeably, certain perceptions were distinctly different between the two populations. For example, African-American women ascribed more proximate determinants to HIV vulnerability while distal factors were more salient among East African immigrant women.
She and her investigators, several of whom were students at the School of International Service, also uncovered that HIV/AIDS stigma cuts deeply across community lines. A prime example being that Ethiopian participants were "more open and vocal about their HIV status within their home community in Addis Ababa," she mentions. "It's not something that's silenced, so they are shocked when they come here to DC because they assumed it would be more open; yet they find even more stigma."
With the study now concluded, De Jesus, who is actively involved in volunteering and advocacy in the DC HIV/AIDS community, eyes public policy as her next horizon. "Regardless of political ideology, public health issues like HIV/AIDS are directly and indirectly impacted by other policies that have everything to do with health. It's sort of like the sum of all policies. HIV/AIDS, therefore, needs to be understood within a framework of the social determinants of health, which include housing, education, environment, transportation, employment, and finance."