International
Professor highlights Nigeria's humanitarian crisis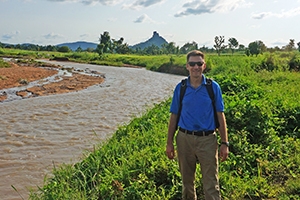 January 8, 2017, marked 1,000 days since 276 schoolgirls were abducted by the terrorist group Boko Haram in Chibok, Nigeria. Today, nearly 200 of the girls are still being held in captivity by the group. School of International Service Professor Carl LeVan, an expert in African politics, governance, security, and development, says that the Chibok girls who made international news in 2014 are unfortunately just one example of many that comprise Nigeria's current humanitarian crisis, which he experienced first-hand during his most recent research trip to the area.
"The focus of my trip was to start doing research for a new book about how [Boko Haram's] violent insurgency in northeastern Nigeria had shattered elite political networks and made the defeat of the ruling political party feasible [in the 2015 elections]," he says. "But along the way, I became interested in and concerned about the governance component of the humanitarian relief effort," Levan says.
While there, LeVan met with many northeastern Nigerians who are experiencing humanitarian issues that perpetuate due to a lack of adequate governance. He participated in a feeding program that assists Almajiri boys who are taken out of their schools in order to beg for their families, and as a result, are susceptible to Boko Haram recruitment; he met with internally displaced persons (IDPs) living in refugee camps and settlements because of violent insurgencies in their hometowns; and he met with local cattle herders whose livelihoods are impacted by a disappearing Lake Chad due to global warming.
"What I stumbled upon and discovered on my trip is that the governance and the oversight of humanitarian relief is really inadequate, that there are openings for corruption, and that there are tremendous inefficiencies," he says.
According to the United Nations, more than two million IDPs have fled violence related to Boko Haram. Most of the IDPs are living in informal "host communities" rather than government-run camps and settlements. They end up being victimized twice: the violence they flee in their hometowns is often replaced by new dangers and threats, including sexual abuse, malnutrition, and limited access to basic necessities. According to the IDPs with whom LeVan met, the Nigerian government's response to the situation has been poorly coordinated and often impeded international relief efforts.
"None of the IDPs we met had been visited by government officials. Not even their hometown politicians—their state legislator or local council chairman—had bothered to come to see them or advocate on their behalf," wrote LeVan in an article for AllAfrica.com. "When confronted, the state officials gave conflicting alibis, claiming that they sent help, but that it was stolen by local officials. Given how little oversight there is over a humanitarian relief effort opaquely micromanaged by corruption-prone bureaucrats, it is no surprise that very few of the two million IDPs have received any meaningful help."
LeVan's observations from his time in Nigeria, and the article for AllAfrica.com in particular, have spurred meaningful conversations between the US and Nigeria officials on how to improve humanitarian crisis management and gaps in governance through accountability and transparency in the region. He notes that this is also a pivotal time in the US-Nigeria relationship, which currently stares down the barrel of the Trump administration. LeVan has outlined for The Hill what impacts of an isolationist stance by the US could mean for both Africa and Trump, and will continue the conversation about Africa policies in the Trump administration on January 18 at a roundtable discussion hosted by the newly launched School of International Service Africa Research Cluster.
While LeVan admits that the complexities of the issues facing Nigeria and African can be daunting, likening them to layers of an onion, he says their intellectually stimulating nature and the people impacted by them are what keep him returning to Africa year after year. "When I started going to Africa in 1999, people told me: 'You go to Europe for the sights, but you go to Africa for the people,' and that's definitely been my experience. The people and the intensity of the relationships that you develop with people over the years is really rewarding."