International
Social Enterprise at SIS to venture online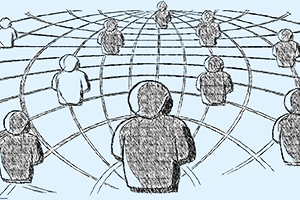 Recognizing the importance of global collaboration and innovation in creating lasting social impacts, the School of International Service (SIS) will launch the MA in Social Enterprise (SE) online program in spring 2017. The new program builds upon the existing on-campus SE program and enables students around the world to pursue their passions, businesses, and education in the field.
Since 2011, the DC-based SE program has readied six cohorts of students to tackle global and societal challenges through entrepreneurship. Graduates have gone on to start their own businesses and nonprofits or enhance existing organizations tied to a social mission.
Strategic Good, for example, is a DC-based consulting firm founded in 2014 by four program graduates which helps small start-ups and established organizations to rethink strategy, revenue generation, and corporate social responsibility. SE alumni also have gone on to work within the start-up, international development, and impact investment fields.
Similarly to the on-campus program, the new online program will incubate globally aware and socially minded career builders, experienced professionals seeking career shifts or advancements, and budding entrepreneurs. Students will work together and independently through an interactive online platform to consult for real clients while pursuing their own social enterprise ventures.
"We're the first social enterprise program to be hosted in an international affairs school and one of about a dozen or less degrees in this field worldwide," notes Robert Tomasko, director of the program. "SIS is the definition of multidisciplinary diversity, which characterizes our students and the field [of social enterprise], too."
Through a practitioner-focused curriculum, the program teaches innovation skills, business knowledge, and policy expertise that support each student's specific interests and career goals in social innovation and entrepreneurship. Students can further customize their learning with 18 credits of concentration and elective courses offered by both SIS and the Kogod School of Business. For example, those entering with a strong business or finance background could complement their studies with courses in nonprofit management, social issues, and international development, among others.
While the online program boasts flexibility to earn an MA in Social Entrepreneurship from anywhere in the world, a unique highlight of the new program combines its DC roots with the program's core ethos of experiential learning and continual innovation. Prior to beginning online courses, students will have the opportunity to attend an immersion program in Washington, DC, and make field visits to local nonprofits, non-governmental organizations, and innovation incubators. They'll also participate in a "hackathon" designed to push them beyond their comfort zones and collaboratively solve a complex business problem for a DC-based social enterprise in just 48 hours.
Matthew Meekins, senior director of strategic partnerships at SIS, views the launch of the online program as an answer to the needs of many qualified and talented students who are either outside of Washington, DC, or unable to regularly visit campus.
"Through our innovative online learning platform, students from around the world can collaborate in real-time with their classmates and faculty member with synchronous high-quality audio and video. By bringing students and faculty together in a virtual space from multiple states, multiple countries, and multiple continents, the program's mission of educating global social entrepreneurs will be achieved not only through course content, but also through its delivery method," he says.
The new MA in Social Enterprise online program joins SIS's other successful online degree offerings, including the online Master of Arts in International Relations and Executive Master of International Service programs, and strengthens the course catalog for all International Relations Online students.
While the program is gearing up for its first semester online, Tomasko believes the social enterprise program will continue to evolve to meet the needs of its students around the world, and even sees potential for collaboration between online and DC-based students in the future, creating a truly globally collaborative program for those both online and on-campus: "The online program is going to give us the ability to greatly expand the geographic scope and magnitude of our social enterprise network. Your network is only as useful as the number of connections you have."
Learn more about the MA in Social Enterprise program.