International
SIS instructor tracks fugitives in new reality show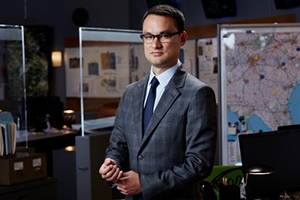 Imagine yourself as a fugitive on the run from law enforcement officials. In today's digital world, how would you make yourself disappear? Would you delete your social media accounts and computer files or set fake clues and decoys to cover your tracks? Would you seek isolation in the woods or hide in plain sight in a busy city? How long would you last before being found?
Adjunct Professor Aki Peritz is betting $250,000 that he and his team could find and capture you within 28 days. Ok, maybe not you exactly, but 18 contestants on CBS's new reality show Hunted, which features Peritz as an intelligence analyst working to find the wanted contestants.
The show follows nine pairs of ordinary people who are "Fugitives" on the run from a team of real-life law enforcement agents and intelligence analysts. Together, 18 "Hunters" in the field and 14 investigators, operations specialists, and analysts in the show's Command Center collaborate to track down and capture the Fugitives, who are given a 100,000-square-mile zone in which to run and hide. Fugitive teams that stay off the grid for 28 days and outsmart the Hunters and Command Center in the manhunt walk away with $250,000.
"On the show, we try to figure out what people are going to do and anticipate their moves. Are they going to go to their families? Are they going to go to their friends? Who are their friends? Are they campers? Do they like sitting in the woods? Do they like urban areas?" says Peritz, a former CIA counter terrorism analyst who auditioned for the show after he received an email from a casting agent.
To answer those questions, Peritz gathers intel from the Fugitives' social media accounts, bank accounts, travel records, and other personal information to try to piece together a pattern of life that might indicate what they're likely to do or where they're likely to go next.
Similar to the work he's done for the CIA and with graduate students in his Intelligence Analyst practicum course at the School of International Service, the information Peritz gathers on the Fugitives is compiled and shared with members of his team to make strategic decisions about how to proceed. In the show, that information might be fed to a former FBI agent who runs Command Center or to Hunters on the ground, but in his professional past, Peritz has prepared intelligence reports and products for the President of the United States and senior policymakers.
During his time at the CIA, Peritz conducted extensive intelligence analysis on Al Qaeda in Iraq. Preparing reports for officials at the highest levels requires not just knowing the facts, but also understanding what level of detail to provide: "The president doesn't care about tactical issues; the president doesn't care that we took out a car bomb factory in Baghdad; but he does need to know where things are going, who the major players are, and what has to be done on a strategic level."
While he says collaborating with other skilled professionals in the intelligence community and beyond—including a former Navy SEAL, US Marshal, British intelligence analyst, SWAT sergeant and commander, and White House chief information officer to name a few—was a highlight of filming Hunted, Peritz hopes the show allows viewers to understand the limits of his and his colleagues' field.
"The powers of the state are vast, but they are actually finite. There's a balance between liberty and security. There are things that the US government cannot do, legally and technically," he says.
Off camera in his practicum course, Peritz hopes to train the next generation of intelligence analysts by giving them real work for a real client: the Defense Intelligence Agency. In addition to strong analytics skills, Peritz says that working in the intelligence community requires teamwork, client management, and time management skills, which viewers will see demonstrated on the show and his students learn through the hands-on class. "I want every student to know how to approach the topic, backwards and forwards. They work with a no-joke client who has extremely high expectations. I hope to hold all my students to a very high standard," he says.
So, what spoilers can Peritz share? Unfortunately, that's classified. However, he does say that the journeys and motivations of the Fugitives are a compelling component of the show: "You're going to see people basically ground down and push the limits of their mental endurance in a lot of ways. As a viewer, the question is: Could you handle the stress of people chasing you and being on the move?"
As an expert on the other side of the chase, Peritz admits he thinks he "would have a sporting chance" as a successful Fugitive: "I think I could give everybody a run for their money."
Catch Peritz on CBS's Hunted at 8:00 p.m., on Wednesdays.