International
Students simulate national security crisis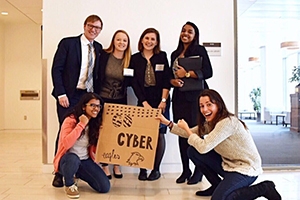 Tensions have been rising between the US and China when, suddenly, a major Chinese bank comes under a cyber attack that crashes its system. The attack is now spreading to US financial institutions, one of which decides to legally "hack-back." Unfortunately, this US response may have impacted Chinese medical devices, leading to a few Chinese casualties. A US Navy ship in the East-China Sea is now under cyber attack and the Chinese are ready to deploy short-range ballistic missiles. What are the US's options for proceeding?
That was the question and fictional scenario presented to me, my teammates, and 45 student teams from 33 universities across the US at the fifth annual Cyber 9/12 Student Challenge on March 17–18. The competition, organized by the Atlantic Council in partnership with the School of International Service (SIS) each year, was hosted at the Washington College of Law (WCL).
Cyber 9/12 is a student competition designed to help international affairs students understand the implications of conflicts in cyberspace. Each team is comprised of four students who take on the roles of staffers responsible for briefing the National Security Council (NSC) with policy recommendations developed in response to a growing crisis. The teams' presentations are then evaluated by a panel of distinguished experts in the field. This year's judges included James Attwood, first secretary of cyber defense at the British Embassy; Kate Charlet, director of cyber policy at the US Department of Defense; General Jennifer Buckner, deputy commander of operations at US Cyber Command; and Jen Weedon, Facebook's threat intelligence director.
This year, two teams represented American University at Cyber 9/12 and were comprised of passionate SIS, WCL, and School of Public Affairs (SPA) students from diverse backgrounds who share a common interest in tackling new ideas in the ever-evolving cyber security field. While the AU Cyber Eagles and the AU Cybernauts both competed, the AU CyberEagles advanced into the semi-finals, which represent the top teams in the competition.
"The experience was extremely rewarding and allowed me to increase my knowledge in cyber security policy and law," says Ashley Schortz, SIS/MA '17, a member of the AU CyberEagles team. "I would definitely recommend it to those who would like to build their skills in public speaking and working on a team. Additionally, the competition was a great opportunity to meet others from various universities and colleges across the US."
In addition to the competition, we heard from distinguished speakers, including Congressman James Langevin (D-RI), and witnessed a hacking demonstration. The event is also included a career fair, as the event is designed to help students with career plans, which allowed me and my teammates to speak directly to recruiters from companies such as Facebook and Leidos.
Furthermore, we had a unique opportunity to interact with expert mentors and high-level cyber professionals and to receive constructive feedback while developing valuable skills in policy analysis and presentation. "I don't know if I've been as simultaneously intimidated and excited than being questioned by a Navy Admiral on cyber policy. It was incredible to be able to work with such an incredible team and compete with some of the best minds coming into the field," says Alex Falco, SPA/MS '17, a member of the AU Cybernauts team.
What Cyber 9/12 demonstrated for our AU teams is that planning a response in the wake of a cyber crisis is quite different than planning a response to most other crises. In the cyber realm, protocols are not always established and—in the early stages of a crisis—time and information are limited, which makes a response even more challenging.
I think I speak for both AU teams and our competitors when I say that we wish to thank the School of International Service; American University; and our coaches, SIS Professor Eric Novotny and WCL Professor Melanie Teplinsky, for another year of professional, practical training in national security and cyber security.
Students interested in participating in next year's competition should contact coach and SIS Professor Eric Novotny.