International
Congratulations, Class of 2017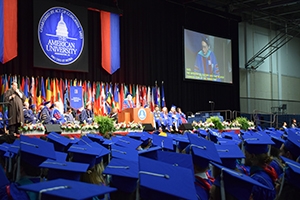 On Sunday, May 14, the School of International Service (SIS) welcomed its newest graduates to a community of more than 20,000 alumni worldwide at the 133rd American University Commencement ceremony. Graduates heard from student speakers Curtis O'Neal, SIS/MA '17, and Deborah Carey, SIS/BA '17, and from honorary degree recipient and Commencement speaker Lakhdar Brahimi, a former UN special adviser to the Secretary General.
In his address to graduates, Brahimi shared three stories about his career and life: one of courage in America, one of humility in Afganistan, and one of leadership in South Africa. "In today's reality, there is no [Nelson] Mandela out there, waiting to inspire you and perhaps lead you. But who knows, maybe there is a young man or woman in your midst, right here in the School of International Service. That man or woman is perhaps one of you. No, that man or woman is certainly one of you," said Brahimi.
What's next for the SIS Class of 2017?
We caught up with a few SIS students to learn more about their plans as they prepare to leave the School of International Service. Here's a glimpse at how the SIS Class of 2017 will wage peace across the globe.
Lester Asamoah, SIS/MA '17
As a Thomas R. Pickering Fellow training for the US Foreign Service, Lester Asamoah will make his first international stop in Vietnam this summer. He will spend 10 weeks interning at the US Embassy in Vietnam, looking at Vietnam's role as a US ally in the context of recent aggression from North Korea. Asamoah said he is fascinated with Vietnam's economy and wants to learn more about the country because of the large Vietnamese population living in his home state, Oklahoma: "I'm looking forward to applying what I learned at SIS. I want to see how we can improve people's lives in Vietnam."
Once Asamoah returns stateside, he will begin preparations for longer overseas terms as an Economics Officer in the Foreign Service.
Erin Bell, SIS/MA '16
After graduating in December 2016, Erin Bell was awarded a Fulbright English Teaching Assistant award in Senegal and soon will fulfill her dream of working in West Africa. In 2014, Bell joined the Peace Corps, but was evacuated from her position in Sierra Leone within several weeks because of the Ebola virus outbreak. Undeterred, Bell enrolled in SIS to study peace and conflict resolution. While at SIS, she interned at Sister Cities International and at Lutheran Social Services, where she helped settle refugees into new homes in Washington, DC, as well as won two travel grants to teach English and chess in Morocco through Neighborhoods Association Idmaj.
Of her plans for Senegal, Bell said: "I'm excited to live in a Francophone country, as well as experience and adapt to the unique Senegalese culture and society. I know I will enjoy teaching English – and possibly chess – during my time there."
Laura DuPriest, SIS/MA '17
Laura DuPriest is joining Catholic Relief Services (CRS) as an International Development Fellow. During a 6–12 month placement in CRS's Lesotho field office, she will monitor and evaluate health and education initiatives in the country and write funding proposals. Previously, DuPriest interned at the Office of the UN High Commissioner for Refugees and the US Committee for Refugees and Immigrants.
"I'm excited to be in a new environment and to keep moving forward with my career at an organization I really respect," said DuPriest. "I'd ultimately like to end up working in a conflict zone, where I can use the conflict resolution skills I learned at SIS for my work with CRS."
Carlotta Gmachl SIS/BA '16
Since graduating in December 2016, Carlotta Gmachl has been shaping the Motor City's future as a member of the economic development team at Detroit's Chamber of Commerce, which she has called a "dream (job) come true." While a student at SIS, Gmachl interned at the German Chamber of Commerce in Beijing, China, and at the US Chamber of Commerce in Washington, DC, which paved the path to her current positon.
"I love Detroit. There's a stigma that Detroit is run-down, but my experience is the complete opposite. It's starting to thrive again," said Gmachl. "My team is contributing to what Detroit is going to look like in five years, in terms of infrastructure, buildings, and real estate. It's exciting and really interesting to work for a department that develops the city."
Maxx Kinert, SIS/BA '17
Maxx Kinert is ditching the congested city for the great outdoors. He's moving to Alaska for several months to work as a naturalist and boating guide with an adventure tourism company: "I'm looking forward to spending most of my time outside and showing people the waterfalls, seals, and bears along the river."
Kinert concentrated in environmental sustainability and global health at SIS and wants to pursue a career in wildlife management, an interest unearthed during his semesters abroad. He interned with the East Africa Wildlife Society while studying in Kenya and lived in a Buddhist monastery in Bodhgaya, India, for a semester. "By studying abroad, I immersed myself in different spaces and cultures. I discovered a happiness in traveling, and that's largely the reason I'm going to Alaska," he said.
Erik St. Pierre, SIS/BA '17
Erik St. Pierre leaves for Costa Rica in July as a member of the Peace Corps. As a youth development coordinator, St. Pierre will teach children and teenagers ways to form positive identities and build a community with their peers. He also will lead sex education and drug prevention programs that build teens' decision-making skills during a time they might experience increased peer pressure and vulnerability.
St. Pierre was inspired to join the Peace Corps after taking SIS's Cross-Cultural Communication course and applying what he learned to his job as a summer camp counselor, in which he worked closely with children from the US and abroad. "In the span of two weeks at camp, you see the kids bonding and building a community across cultures," said St. Pierre. "I want to use the Peace Corps as an opportunity to understand and study how connections are established across cultures."
Melissa Rodney, SIS/BA '17
Melissa Rodney credits Rural & Migrant Ministry with helping her develop leadership skills when she interned there two years ago. This summer, Rodney will return to the rural New York organization to run a summer camp for immigrant teens and to research college funding opportunities for undocumented students. She said the camp offers an opportunity to "help teens change their perspective on societal norms by covering concepts that they are unlikely to learn in a classroom setting, like the way the US justice and court systems operate."
Rodney said that she is drawn to assisting immigrants and refugees partly because of her own background as an immigrant from Jamaica: "I know immigration to the US is a tedious process because I saw my family go through it."